Threaded Joint
The following article is from The Great Soviet Encyclopedia (1979). It might be outdated or ideologically biased.
Threaded Joint
(threaded connection), a joining of parts by means of threads. Threaded joints are the most common type of releasable connections, which employ various fastenings to ensure relative immobility of the joined elements of machines and mechanisms. Threaded joints usually use fastenings, such as bolts, screws, and nuts. The strength and durability of threaded joints depend on the design of parts, precision of manufacture, and engineering factors. Threaded joints with taper thread are the type most widely used to join pipes, since this type of thread gives the joints the necessary airtightness.
The Great Soviet Encyclopedia, 3rd Edition (1970-1979). © 2010 The Gale Group, Inc. All rights reserved.
threaded joint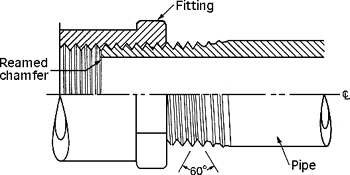 A mechanical joint between threaded pipes or between a threaded pipe and threaded fitting.
McGraw-Hill Dictionary of Architecture and Construction. Copyright © 2003 by McGraw-Hill Companies, Inc.