Threshold Device
The following article is from The Great Soviet Encyclopedia (1979). It might be outdated or ideologically biased.
Threshold Device
in automation and computer technology, a device, in this case a circuit, with several inputs and one output, designed to compare the values of the input signals against a given value, the threshold level. Output signal y can assume only one of two values, 0 or 1, and is related to input signals xi as follows: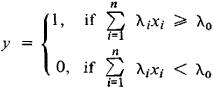 where λi, is the amplification factor of signals xi (i = 1, 2, …, n) and λ0 is the threshold level.
Threshold devices are classified according to the static characteristic as two-position, three-position, reversible, and irreversible and according to the nature of the output signal as pulse, frequency, and amplitude devices. A threshold device that compares two signals fed to its input is called a zero element. The threshold device usually contains a nonlinear element, an amplifier, and a positive feedback loop. Their arrangement will determine the various characteristics of the threshold device: minimum threshold level (sensitivity); zero level drift, which describes the stability of the device; input impedance; range of input signals for which the element keeps the assigned static and dynamic characteristics; speed; noise stability; the presence of galvanic isolation between the input and output; and reliability.
The Great Soviet Encyclopedia, 3rd Edition (1970-1979). © 2010 The Gale Group, Inc. All rights reserved.