Threshold of Hearing
Also found in:
Acronyms
.
threshold of hearing
[

′thresh'hōld əv ′hir·iŋ

]

(physiology)

McGraw-Hill Dictionary of Scientific & Technical Terms, 6E, Copyright © 2003 by The McGraw-Hill Companies, Inc.
The following article is from The Great Soviet Encyclopedia (1979). It might be outdated or ideologically biased.
Threshold of Hearing
the minimum sound pressure level at which a sound of a given frequency can be perceived by the human ear. It is customarily expressed in decibels by taking as the zero level a sound pressure of 2 X 10-5 newton/m2, or 2 × 10-4 dyne/cm2, at a frequency of 1 kilohertz (for a plane wave).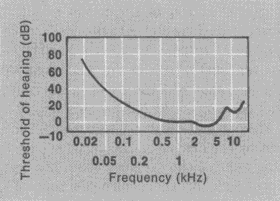 The threshold of hearing varies with the frequency of the sound (Figure 1). It is higher for a given sound when the sound is accompanied by noise and other acoustic stimuli (seeSOUND, MASKING OF). This higher value is maintained for a certain time after the interference stops; the threshold then gradually returns to its original level. The threshold of hearing may vary for different people and at different times for the same person, depending on age, physiological condition, and training. It is usually measured by audiometric methods.
REFERENCE
Beranek, L. Akusticheskie izmereniia. Moscow, 1952. Chapter 4, sec. 4. (Translated from English.)
Rzhevkin, S. N. Slukh i rech' v svete sovremennykh fizicheskikh is sledovanii, 2nd ed. Moscow-Leningrad, 1936. Chapter 1, sec. 2; ch. 2.
The Great Soviet Encyclopedia, 3rd Edition (1970-1979). © 2010 The Gale Group, Inc. All rights reserved.