thunderbolt
(redirected from Thunderbolt 2)
Also found in:
Dictionary
,
Thesaurus
,
Legal
.
thunderbolt
1. a flash of lightning accompanying thunder
2. (in mythology) the destructive weapon wielded by several gods, esp the Greek god Zeus
thunderbolt
[

′thən·dər'bōlt

]

(geophysics)

In mythology, a lightning flash accompanied by a material bolt or dart and which causes great damage; it is still used as a popular term for a single lightning discharge accompanied by thunder.
Thunderbolt
A peripheral interface from Intel that provides simultaneous transfer of data over DisplayPort and PCI Express (PCIe) interfaces. First used in 2011 on MacBook Pro laptops, Thunderbolt's dual bi-directional channels enable up to six Thunderbolt devices (monitors, drives, etc.) to be daisy chained together.

Prior to Thunderbolt 3, Thunderbolt uses the same plug and socket as the Mini DisplayPort but is identified with a thunderbolt symbol (see below). See DisplayPort.

Thunderbolt 2 and 3
The first Thunderbolt was rated at 10 Gbps per channel, while Thunderbolt 2 allowed the two channels to be combined for a single 20 Gbps bi-directional channel. Thunderbolt 3 doubled the speed to 40 Gbps and uses the reversible USB Type C connector. Each Thunderbolt version is backward compatible with the previous versions. See USB Type C.

Geared to HD Video Editing
Thunderbolt was designed primarily for video editors, who can never get enough speed. For example, it enables multiple HD video streams to be read from a disk array, rendered on screen and transferred to an external HD monitor in real time. See Thunderbolt Display, Thunderbolt Bridge, PCI Express and DisplayPort.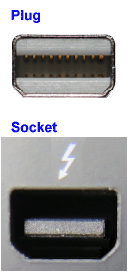 Thunderbolt Connectors
Thunderbolt uses the Mini DisplayPort plug and socket but adds simultaneous PCI Express connectivity within the same cable. Thunderbolt plugs and sockets are identified with a lightning (thunderbolt) symbol.