Timing Diagram
Also found in:
Wikipedia
.
The following article is from The Great Soviet Encyclopedia (1979). It might be outdated or ideologically biased.
Timing Diagram
a graphic representation of the moments when the valves or ports of an internal-combustion engine open and close relative to the position of the piston, that is, to the angle of rotation of the engine's crankshaft. On a circular timing diagram (Figure 1), the position of the valves is determined by the angles of advance (or retard) at the moments when the valves are opened (or closed) relative to the top and bottom dead centers of the piston. In engines capable of operating at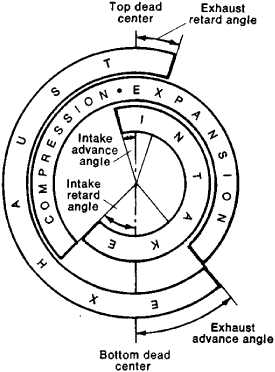 higher speeds, the duration of the valve openings is increased because advancing the opening of the exhaust valve and retarding its closing ensure better removal of the exhaust gases from the cylinder. Advancing the opening and retarding the closing of the intake valve facilitate the filling of the cylinder with a fresh fuel mixture.
The Great Soviet Encyclopedia, 3rd Edition (1970-1979). © 2010 The Gale Group, Inc. All rights reserved.