Titan
Also found in:
Dictionary
,
Thesaurus
,
Acronyms
,
Wikipedia
.
Titan,
in Greek religion and mythology, one of 12 primeval deities. The female Titan is also called Titaness. The Titans—six sons and six daughters—were the children of Uranus and Gaea. They were Kronos, Iapetus, Hyperion, Oceanus, Coeus, Creus, Theia, Rhea, Mnemosyne, Phoebe, Tethys, and Themis. The name Titan was sometimes applied also to their descendants, such as Prometheus, Atlas, Hecate, Selene, and Helios. The Titans, led by Kronos, deposed their father and ruled the universe. They were in turn overthrown by the Olympians, led by Zeus, in the battle called the Titanomachy. Zeus freed from Tartarus the Cyclopes and the hundred-handed giants, the Hecatoncheires, to aid him in the war. The Cyclopes forged Hades' helmet of darkness, Poseidon's trident, and Zeus' thunderbolts. With these weapons Zeus and his brothers were able to defeat the Titans. After the struggle Zeus sent Kronos to rule the Isle of the Blessed and condemned Atlas to bear the sky on his shoulders. Prometheus (and, in some myths, Oceanus and Themis), because he sided with Zeus, was allowed to remain on Olympus, but all the other Titans were condemned to Tartarus.
---
Titan
(tī`tən)

, in astronomy, the largest of the named moons, or natural satellites, of SaturnSaturn,
in astronomy, 6th planet from the sun. Astronomical and Physical Characteristics of Saturn

Saturn's orbit lies between those of Jupiter and Uranus; its mean distance from the sun is c.886 million mi (1.
.....

Click the link for more information.

. Also known as Saturn VI (or S6), Titan is 3,200 mi (5,150 km) in diameter, orbits Saturn at a mean distance of 759,209 mi (1,221,830 km), and has equal orbital and rotational periods of 15.9454 earth days. Titan was discovered by the Dutch physicist Christiaan HuygensHuygens, Christiaan
, 1629–95, Dutch mathematician and physicist; son of Constantijn Huygens. He improved telescopic lenses and discovered (1655) a satellite of Saturn and studied the rings of Saturn. His findings were described in his Systema Saturnium (1659).
.....

Click the link for more information.

in 1655. Titan was thought to be the largest satellite in the solar system until recently, when it was recognized that estimates of its size had included its thick atmosphere. Titan's solid surface is slightly smaller than that of GanymedeGanymede
, in astronomy, one of the moons, or natural satellites, of Jupiter; the largest natural satellite in the solar system, it is larger than the planet Mercury.
.....

Click the link for more information.

, the largest of Jupiter's satellites. Titan is composed of about half water ice and half rocky materials. It probably consists of several layers, with a 2,100 mi (3,400 km) rocky center surrounded by several layers of different forms of crystal ice that surround a liquid water and ammonia ocean. The solid surface is surrounded by an atmosphere consisting mostly of molecular nitrogen with small amounts of methane, ethane, and other hydrocarbons as well as some hydrogen. The thick, opaque atmosphere prevents the surface from being seen in visible light. In Titan's frigid atmosphere, methane rains onto the surface to form streams and lakes; grains of frozen hydrocarbons form dunes in some areas. Titan is the only natural satellite in the solar system with a significant atmosphere, although a much thinner one has been detected around TritonTriton
, in astronomy, innermost and largest of the eight known moons, or natural satellites, of Neptune.
.....

Click the link for more information.

, a satellite of Neptune. Titan's atmosphere was first detected spectroscopically by the Dutch-American astronomer Gerard P. Kuiper in 1944. Some surface detail has been observed via the Hubble Space Telescope using infrared light; one prominent feature seen in this way is c.2,500 mi (4,000 km) across, about the size of the Australian continent. More significant studies wereconducted by the space probe Cassini, an orbiter that was launched in 1997 and studied Saturn and its rings and moons (2004–17); it used infrared, microwave, and other imaging systems. In 2005 the space probe Huygens, which had been carried by Cassini, landed on Titan and returned photographs of its surface. Titan forms a satellite pair with HyperionHyperion
, in astronomy, one of the named moons, or natural satellites, of Saturn. Also known as Saturn VII (or S7), Hyperion is the largest highly irregular (nonspherical) body in the solar system, measuring about 255 mi (410 km) by 160 mi (260 km) by 135 mi (220 km); it orbits
.....

Click the link for more information.

; that is, the two moons interact gravitationally.

The Columbia Electronic Encyclopedia™ Copyright © 2013, Columbia University Press. Licensed from Columbia University Press. All rights reserved.

www.cc.columbia.edu/cu/cup/
Titan
(tÿ -tăn) The largest satellite of Saturn, discovered in 1655 by Christiaan Huygens. It orbits the planet at a mean distance of 1 221 900 km in a period of 15.95 days. It is in synchronous rotation with Saturn. With a diameter of 5150 km Titan is the second largest satellite in the Solar System, after Jupiter's Ganymede and, like Ganymede, it is somewhat larger but much less massive than the planet Mercury. The satellite appears reddish or orange in color but the two hemispheres are not identical. Titan has a thick, planetlike atmosphere made up almost entirely of nitrogen, with traces of argon, methane, ethane, acetylene, propane, diacetylene, methylacetylene, hydrogen cyanide, cyanoacetylene, cyanogen, carbon dioxide, and carbon monoxide. The surface pressure is 1.6 times that of the Earth and the surface temperature is 94 K, so that it is warmed by a small greenhouse effect. The coloration of the atmosphere is due to photochemical reactions and the production of fogs and aerosol particles, which probably extend nearly to the surface. Methane on Titan appears to play a similar role in the satellite's atmosphere to that of water on Earth, occurring in the three states of solid, liquid, and gas. The atoms and molecules of hydrogen that are produced by the photochemical reactions can easily escape from Titan and form a massive doughnut-shaped torus in the orbit of Titan. The material diffuses inward but is prevented from extending much beyond the orbit of Titan through the location of the boundary between the Saturn magnetosphere and the solar wind. The density of Titan is approximately 1.88 g cm–3, nearly twice that of water. This suggests that the interior is composed roughly of half rock and half water ice. It has a surface that could be either liquid or solid in part, with oceans of methane. With no evidence of an intrinsic magnetic field, there would not seem to be an electrically conducting core. Voyager 1 in 1980 provided the first detailed images of Titan, including radar scans. The satellite became a major focus of the Cassini mission to Saturn, launched in 1997. In January 2005 the European Space Agency's Huygens probe, part of the Cassini mission, touched down on Titan, giving scientists their first direct glimpses of its surface. Thus Titan became only the second planetary satellite to be the landing site of a human-made spacecraft. See also Table 2, backmatter.

Collins Dictionary of Astronomy © Market House Books Ltd, 2006
Titan
[

′tīt·ən

]

(astronomy)

The largest satellite of Saturn, with a diameter estimated to be about 3440 miles (3550 kilometers).

McGraw-Hill Dictionary of Scientific & Technical Terms, 6E, Copyright © 2003 by The McGraw-Hill Companies, Inc.
Titan
(1) Various video games have used Titan in their title or as a mode of operation starting with the 1988 puzzle game Titan. An earlier game engine for Windows from Stainless Steel Studios was named Titan. Several early computers and CPUs have also gone by the name of Titan.

(2) (TITAN) A line of high-end graphics cards from NVIDIA, including the TITAN Xp, TITAN V and TITAN RTX. The TITAN brand was also used on NVIDIA's GeForce 700 series. See NVIDIA.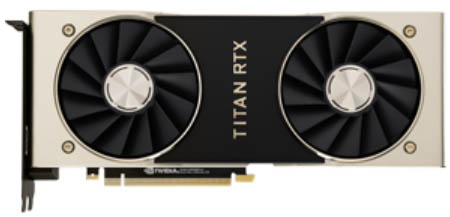 The TITAN RTX
A PC Gamer's dream graphics card, the TITAN RTX has 24GB of RAM, 4,608 CUDA cores and performs more than 100 trillion floating point operations per second. (Image courtesy of NVIDIA Corporation.)
Copyright © 1981-2019 by The Computer Language Company Inc. All Rights reserved. THIS DEFINITION IS FOR PERSONAL USE ONLY. All other reproduction is strictly prohibited without permission from the publisher.