Toltec architecture
Toltec architecture
(750–1200)

An austere geometric architecture that formed the basis for the Aztec style and others. It was characterized by the use of colonnades, square carved roof supports, monumental serpent columns, and narrative relief panels set in plain wall surfaces. Tula was one of the major sites in this style, which featured colossal statues of warriors and stone panels carved with human-headed jaguars and carved symbols of Quetzalcoatl.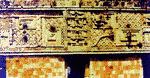 Illustrated Dictionary of Architecture Copyright © 2012, 2002, 1998 by The McGraw-Hill Companies, Inc. All rights reserved
Toltec architecture
An austere geometric Mesoamerican architecture, ca. 1000 A.D., which formed the basis for Aztec architecture and other architecture of Mesoamerica.
McGraw-Hill Dictionary of Architecture and Construction. Copyright © 2003 by McGraw-Hill Companies, Inc.