tower
(redirected from Towery)
Also found in:
Dictionary
,
Thesaurus
.
tower,
structure, the greatest dimension of which is its height. Towers have belonged to two general types. The first embodies practical uses such as defense (characteristic of the Middle Ages), to carry bells, beacons, or antennas, and to utilize maximum floor space in a given area, as in modern skyscrapers. The second type is used to symbolize the authority and power of religious and civic bodies, as in the churches and town halls of Europe; skyscrapersskyscraper,
modern building of great height, constructed on a steel skeleton. The form originated in the United States. Development of the Form

Many mechanical and structural developments in the last quarter of the 19th cent. contributed to its evolution.
.....

Click the link for more information.

also perform a similar function for modern corporations. The earliest use of tall structures for ritual and symbolism is seen in the Babylonian zigguratziggurat
, form of temple common to the Sumerians, Babylonians and Assyrians. The earliest examples date from the end of the 3d millenium B.C., the latest from the 6th cent. B.C.
.....

Click the link for more information.

. The temple architecture of India had a variety of pyramidal and cylindrical masonry towers. The many-storied pagodapagoda
, name given in the East to a variety of buildings of tower form that are usually part of a temple or monastery group and serve as shrines. Those of India (see stupa) are chiefly pyramidal structures of masonry, tapering to an apex and elaborately adorned with carving and
.....

Click the link for more information.

in wood was a part of early Chinese and Japanese temple architecture. The minaretminaret
, tower, used in Islamic architecture, from which the faithful are called to prayer by a muezzin. Most mosques have one or more small towers, which are usually placed at the corners.
.....

Click the link for more information.

belongs to Islamic religious architecture. Used for defensive purposes in the early Middle Ages in Western Europe, towers with massive masonry walls served as refuges and lookouts. Many 9th- and 10th-century round defense towers remain in Ireland and a few in Scotland, including one at Brechin. Castles had their donjons or keeps, of which the 11th-century Tower of LondonTower of London,
ancient fortress in London, England, just east of the City and on the north bank of the Thames, covering about 13 acres (5.3 hectares). Now used mainly as a museum, it was a royal residence in the Middle Ages. Later it was a jail for illustrious prisoners.
.....

Click the link for more information.

shows a high development. Of the fortified towers that Italian nobles built even for their city dwellings numerous examples remain, notably at San Gimignano. The earliest existing church towers in Europe were those of the 5th and 6th cent. in Ravenna, Italy. There the bell tower, or campanilecampanile
, Italian form of bell tower, constructed chiefly during the Middle Ages. Built in connection with a church or a town hall, it served as a belfry and watch tower and often functioned as a civic or commemorative monument.
.....

Click the link for more information.

, stood detached from the church building itself; another example is the celebrated bell tower at Pisa (1174). In English and French Romanesque churches a high tower rises over the crossing of nave and transepts, and the west end generally possesses lower twin towers. The relatively simple Romanesque towers generally had square or round shafts with many blind arcades in horizontal tiers and were topped by a simple octagonal or conical spire. They developed into the higher, elaborate type of Gothic, decorated with pinnacles and canopied niches. Towers of extreme lightness and intricacy were developed in the late Gothic period, as in the cathedrals at Rouen, Vienna, and Antwerp. With the Renaissance the classical orders were incorporated into tower design. Particular success was attained in the tapering pyramidal compositions of Sir Christopher Wren's numerous London towers, including those of St. Paul's Cathedral. English churches, e.g., St. Martin-in-the-Fields by James Gibbs, set the pattern for the typical New England church with the wooden tower and steeple rising directly over the entrance vestibule. In the 20th and 21st cent., towers have often taken the form of skyscrapers. Notable modern towers of varied design and function include the highly original Einstein Tower at Potsdam by Erich Mendelsohn and Frank Lloyd Wright's Johnson tower with glass tubing at Racine, Wis.

The Columbia Electronic Encyclopedia™ Copyright © 2013, Columbia University Press. Licensed from Columbia University Press. All rights reserved.

www.cc.columbia.edu/cu/cup/
Tower
A tall structure designed for observation, communication, or defense. A bell tower is synonymous with the term "campanile"; church towers were used for hanging bells, hence the use of the term "belfry."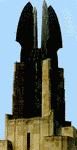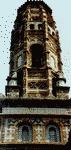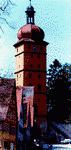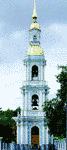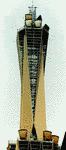 Illustrated Dictionary of Architecture Copyright © 2012, 2002, 1998 by The McGraw-Hill Companies, Inc. All rights reserved
The following article is from The Great Soviet Encyclopedia (1979). It might be outdated or ideologically biased.
Tower
originally towers were constructed for defense purposes (watchtowers, fortress towers, places of imprisonment, and so forth) and for signaling (lighthouses); later there developed towers for religious purposes (belfries, minarets), civic towers (town halls, often with a municipal clock), and engineering towers (water towers, radio and television towers, silos, and the like). Rising above the surrounding structures, expressive and dynamic in composition, towers often are the main dominating high motif of a group of buildings and a kind of city emblem. Outstanding models of towers include the Leaning Tower of Pisa (1174–1372; height, 56 m); the north tower of the Strasbourg Cathedral (1399–1439; height, 42 m); the Kremlin Tower in Moscow (15th—17th centuries); the Eiffel Tower in Paris, built as an emblem of 19th century technical achievements for the World's Fair (1889; height c. 300 m; engineer, A. G. Eiffel); the steel radio tower designed by engineer V. G. Shukhov in Moscow (1921; height, 148 m); the reinforced concrete tower topped by a 51-meter steel structure in Stuttgart (1954–66; height, c. 160 m; architect, F. Leonhardt). Modern towers are constructed from steel, wood, reinforced concrete, stone (television towers, spaceport towers, radio towers, water towers, silos and so on). The structural element of the base of a steel or wooden tower usually is a spatial shaft frame; the section of the base can be circular, square, rectangular, triangular, or multiangular. The base of a tower built of reinforced concrete or stone (brick) in most cases has a round section.
Towers are subject basically to meteorological stress—wind, temperature, and freezing. Calculations used in constructing towers are based on general rules of construction mechanics; a static calculation to determine durability, stability, and the degree of deformation, as well as dynamic calculations, are carried out. The highest tower in the world is that of the All-Union Television Center in Moscow (1961–68). It has a height of 533 m and consists of two parts—reinforced concrete (up to the 385-meter mark) and metal (architects, D. I. Burdin, M. A. Shkud, L. N. Shchipakin; engineers, N. V. Nikitin, B. A. Zlobin; Lenin Prize, 1970).
The Great Soviet Encyclopedia, 3rd Edition (1970-1979). © 2010 The Gale Group, Inc. All rights reserved.
What does it mean when you dream about a tower?
A tower may be a symbol of vigilance (a watch-tower) or a symbol of punishment and imprisonment (a guard tower). Scholarship and abstract ideas that seem to be isolated from everyday life are sometimes said to be the purview of someone who lives in an "ivory tower." Similarly, the invitation to "come down from your tower" (ivory or otherwise) is an invitation to rejoin life. As in the fairy tale Rapunsel, perhaps the dreamer should "let her hair down" and become more accessible to others.
The Dream Encyclopedia, Second Edition © 2009 Visible Ink Press®. All rights reserved.
tower
[

tau̇·ər

]

(chemical engineering)

A vertical, cylindrical vessel used in chemical and petroleum processing to increase the degree of separation of liquid mixtures by distillation or extraction. Also known as column.

(electromagnetism)

A tall metal structure used as a transmitting antenna, or used with another such structure to support a transmitting antenna wire.

(engineering)

A concrete, metal, or timber structure that is relatively high for its length and width, and used for various purposes, including the support of electric power transmission lines, radio and television antennas, and rockets and missiles prior to launching.

(mathematics)

For a set S with a given algebraic structure, this is a set of subsets, S0= S, S1, S2, … , Sn , such that Si +1is a subset of Si, i = 1, 2, … , n- 1, and each Si is closed under all possible operations in the algebraic structure of S.

McGraw-Hill Dictionary of Scientific & Technical Terms, 6E, Copyright © 2003 by The McGraw-Hill Companies, Inc.
tower
A structure or building characterized by its relatively great height as compared with its horizontal dimensions; also see
shot tower
and
torreón
.
McGraw-Hill Dictionary of Architecture and Construction. Copyright © 2003 by McGraw-Hill Companies, Inc.
tower
1. a tall, usually square or circular structure, sometimes part of a larger building and usually built for a specific purpose
2. a mobile structure used in medieval warfare to attack a castle, etc.
Collins Discovery Encyclopedia, 1st edition © HarperCollins Publishers 2005
tower
(1) A vertical computer cabinet. See tower case.

(2) A self-standing, vertical post that is designed to hold one or more antennas. Very often, the term refers to both the tower and antennas; for example, a cellular tower.

Copyright © 1981-2019 by The Computer Language Company Inc. All Rights reserved. THIS DEFINITION IS FOR PERSONAL USE ONLY. All other reproduction is strictly prohibited without permission from the publisher.