Tray
Also found in:
Dictionary
,
Thesaurus
,
Medical
,
Wikipedia
.
System Tray
An area on the right side of the Taskbar on the Windows interface used to display the status of various functions, such as speaker volume and modem transmission. Applications also insert icons on the System Tray to give you a quick entrance into either the application itself or some auxiliary function. If you disable an application icon in the System Tray by right clicking it and selecting a Disable or Exit option, you are only eliminating it for this session. When you start up Windows again, it will reappear.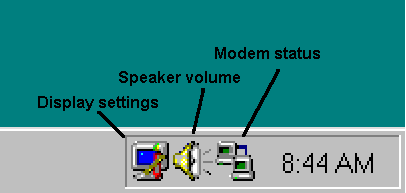 The System Tray
---
tray card
The printed insert that goes under the tray in a CD jewel case and wraps around both edges. If the printed cover of the jewel case is only a single piece of paper rather than a booklet, it is often known as the front tray card. See jewel case.
---
tray drive
A type of drive that uses a flat tray to hold the media. The tray is ejected from the drive for media placement and retracted for playing (reading). CD and CD-ROM drives are common examples of tray drives. Contrast with feed drive and caddy drive.
Tray
a flat vessel for processing photographic paper, film, and plates and for etching engraving plates. It has a ribbed or contoured bottom and a spout in one corner for decanting the solution. Trays may be made of glass, plastic, enameled iron, porcelain, or stainless steel in sizes that depend on the dimensions of the photographic materials being processed.