Trelleborg
Also found in:
Wikipedia
.
Trelleborg
(trĕləbôr`yə)

, city (1990 pop. 22,850), Malmöhus co., extreme S Sweden, a port on the Baltic Sea. Manufactures include machinery, rubber, cement, and refined sugar. It is an important crossing point to continental Europe, with ferry connections to Germany. Trelleborg was founded in the Middle Ages and owed its early prosperity to abundant herring catches in the Baltic. Its modern growth dates from the late 19th cent. The name is sometimes spelled Trälleborg.

The Columbia Electronic Encyclopedia™ Copyright © 2013, Columbia University Press. Licensed from Columbia University Press. All rights reserved.

www.cc.columbia.edu/cu/cup/
The following article is from The Great Soviet Encyclopedia (1979). It might be outdated or ideologically biased.
Trelleborg
a city and port at the tip of Sweden on the Baltic Sea, in the county of Malmöhus. Population, 35,200 (1974). Industry includes machine building and the production of industrial rubber. There are railroad ferries to Sassnitz in the German Democratic Republic and to Travemünde in the Federal Republic of Germany.
---
Trelleborg
the remains of a Viking military camp dating from the end of the first millennium A.D., near Slagelse in western Sjaelland (Zealand), Denmark. The camp was excavated from 1934 to 1942.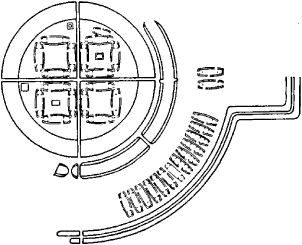 Trelleborg is divided into two parts (see Figure 1). The inner encampment is encircled by an earthen bank with four gates facing north, south, east, and west. This encampment, 136 m in diameter, contains 16 longhouses arranged in groups of four; the houses have hearths and are made of split logs placed vertically. Outside the bank, on the eastern and southeastern sides, is a ditch. Beyond the ditch there are 15 more longhouses arranged along an arc, and beyond these buildings are another earthen bank and ditch. The camp was apparently designed to serve as quarters for Danish royal troops.
The Great Soviet Encyclopedia, 3rd Edition (1970-1979). © 2010 The Gale Group, Inc. All rights reserved.