Tudor style
Also found in:
Dictionary
,
Wikipedia
.
Tudor style,
descriptive of the English architecture and decoration of the first half of the 16th cent., prevailing during the reigns (1485–1558) of Henry VII, Henry VIII, Edward VI, and Mary I. It is the first of the transitional styles between Gothic Perpendicular and Palladian architecture, the other two being ElizabethanElizabethan style
, in architecture and the decorative arts, a transitional style of the English Renaissance, which took its name from Queen Elizabeth's reign (1558–1603). During this period many large manor houses were erected by the court nobility.
.....

Click the link for more information.

and Jacobean stylesJacobean style
, an early phase of English Renaissance architecture and decoration. It formed a transition between the Elizabethan and the pure Renaissance style later introduced by Inigo Jones.
.....

Click the link for more information.

. The rise of new trading families to wealth and the enrichment of court favorites by Henry VIII with lands and riches derived from his suppression of monasteries resulted in the building of many manor houses. In these the fortified character of earlier times gave way to increased domesticity and privacy. Although the great hall still remained the focus of the establishment, its importance now decreased with the introduction of other rooms such as parlors, studies, bedrooms in greater number, and quarters for dining. Rooms frequently were fitted with oak paneling, often of linen-fold type; walls and ceilings received rich plaster relief ornament; and articles of furniture came into greater use. Domestic exteriors exhibited Perpendicular features in modified form, notably square-headed, mullioned windows and arched openings of the four-centered or so-called Tudor type. Other characteristics were the use of brickwork combined with half-timber, high pinnacled gables, bay or oriel windows, and numerous chimneys of decorative form. Principal Tudor examples are parts of Hampton Court Palace, begun in 1515, and many colleges of Oxford and Cambridge. Noted country manors include Sutton Place, Surrey; Layer Marney, Essex; and the splendid Compton Wynyates, Warwick.
Bibliography
See J. Harvey, Introduction to Tudor Architecture (1949) and J. Lees-Milne, Tudor Renaissance (1951)
The Columbia Electronic Encyclopedia™ Copyright © 2013, Columbia University Press. Licensed from Columbia University Press. All rights reserved.
www.cc.columbia.edu/cu/cup/
Tudor style
(1485–1547)

The final development of English Perpendicular Gothic architecture, during the reigns of Henry VI and Henry VIII, preceding Elizabethan architecture, and characterized by the use of four-centered arches.

Illustrated Dictionary of Architecture Copyright © 2012, 2002, 1998 by The McGraw-Hill Companies, Inc. All rights reserved
Tudor Revival, Tudor style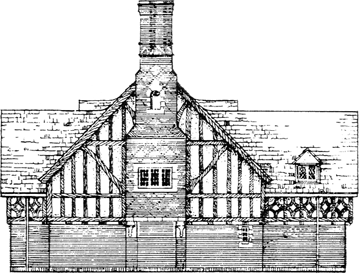 A term descriptive of a picturesque mode of domestic architecture prevalent from about 1880 to 1940 and beyond, emulating its Tudor architecture prototype. Homes in this style, usually asymmetrical in plan, often were clad in brick, or stucco in combination with wood; commonly,
false half-timbering
; surface ornamentation consisting of
strapwork
; steeply pitched gables with little overhang at the eaves; bargeboards
McGraw-Hill Dictionary of Architecture and Construction. Copyright © 2003 by McGraw-Hill Companies, Inc.