overhead camshaft
(redirected from Twin-cam)
Also found in:
Dictionary
.
Related to Twin-cam:
SOHC
overhead camshaft
[

′ō·vər'hed ′kam'shaft

]

(mechanical engineering)

A camshaft mounted above the cylinder head.

McGraw-Hill Dictionary of Scientific & Technical Terms, 6E, Copyright © 2003 by The McGraw-Hill Companies, Inc.
overhead camshaft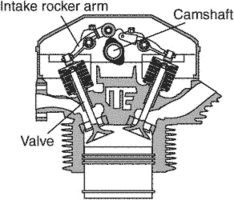 The camshaft of an aircraft reciprocating engine, located above the cylinder head, which operates the valves directly without the aid of the push rods.
An Illustrated Dictionary of Aviation Copyright © 2005 by The McGraw-Hill Companies, Inc. All rights reserved