tympanum
(redirected from Tympanon)
Also found in:
Dictionary
,
Thesaurus
,
Medical
.
tympanum
(tĭm`pənəm)

. In architecture, the triangular space of a pedimentpediment,
in architecture, the triangular gable end on a building of classic type or a similar form used decoratively. It consists of the tympanum, or triangular wall surface, enclosed below by the horizontal cornice and above by the raking cornice, which follows the slope of
.....

Click the link for more information.

, or low-pitched gable, above a portico, door, or window. Its boundaries are generally cornice moldings. The term also designates the solid wall space above an arched window or door. Sculptured tympana of this type, within round or pointed arches, occurred above the doors of the recessed portals in the medieval churches. They were universal in both Romanesque and Gothic periods, and were especially fine in France. The usual subjects are biblical and symbolic, often arranged in horizontal tiers with numerous figures to illustrate a complete legend. Over the central doorway of Notre-Dame de Paris is a depiction of the Last Judgment. In Italy tympana were sometimes decorated with mosaic or fresco.

The Columbia Electronic Encyclopedia™ Copyright © 2013, Columbia University Press. Licensed from Columbia University Press. All rights reserved.

www.cc.columbia.edu/cu/cup/
Tympanum
The triangular space between the horizontal and sloping cornices immediately above the opening of a doorway or a window, or the space between the lintel above a door and the arch above.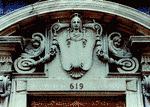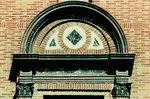 Illustrated Dictionary of Architecture Copyright © 2012, 2002, 1998 by The McGraw-Hill Companies, Inc. All rights reserved
tympanum
[

′tim·pə·nəm

]

(anatomy)

(invertebrate zoology)

A thin membrane covering an organ of hearing in insects.

McGraw-Hill Dictionary of Scientific & Technical Terms, 6E, Copyright © 2003 by The McGraw-Hill Companies, Inc.
tympanum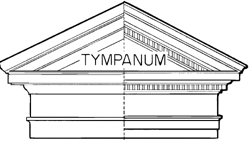 1.
The triangular or segmental space enclosed between the horizontal cornice of a
pediment
and the underside of the raking or curved cornice above; sometimes decorated with decorative elements, sculpture, or a window.
2. Any space similarly marked off or bounded, as between the lintel of a door and the arch above.
McGraw-Hill Dictionary of Architecture and Construction. Copyright © 2003 by McGraw-Hill Companies, Inc.
tympanum
1.
a. the cavity of the middle ear
2. any diaphragm resembling that in the middle ear in function
3.
Architect
a. the recessed space bounded by the cornices of a pediment, esp one that is triangular in shape and ornamented
b. the recessed space bounded by an arch and the lintel of a doorway or window below it
4. Music a tympan or drum
5. a scoop wheel for raising water
Collins Discovery Encyclopedia, 1st edition © HarperCollins Publishers 2005