SD Card
(redirected from UHS-II)
SD Card
(Secure Digital Memory Card) A family of compatible and very popular flash memory cards used primarily for storage in cameras and phones. Introduced in 1999 by Panasonic, Toshiba and SanDisk as the successor to the MultiMediaCard (see MMC), the SD technology is managed by the SD Association (www.sdcard.org).

Capacities reached 512GB for the full-size card and 1TB for the tiny microSD. For video recording, SD cards support various write speeds (see SD card classes), and although SD cards were designed for copyright protection (the "Secure" in SD), they were never much used for that purpose (see CPRM). SD uses NAND flash technology (see flash memory). See Video HD, Eye-Fi and SDIO card.

SD Express - More Speed
In 2018, SD Express was introduced, which supports additional interfaces and higher speeds while keeping backward compatibility with the billions of SD hosts in the world. See SD Express.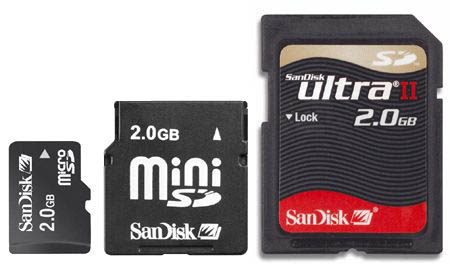 MicroSD - MiniSD - Full-Size
With storage up to 400GB, the tiny 15x11x1mm microSD card (left) is the most popular, and it obsoleted the miniSD format. The full-size 32x24x2mm card is available up to 512GB. Adapters let microSDs plug into full-size slots (see microSD). (Images courtesy of SanDisk Corporation, www.sandisk.com)

SDHC, SDXC, SDUC
As storage increased, HC, XC and UC formats were introduced to accommodate the larger capacities. All newer-format SD slots accept the older cards. See FAT32 and exFAT. (Images courtesy of SanDisk Corporation, www.sandisk.com)
Year   Maximum    FileFormatInto   Capacity   System

    SD     1999      2GB     FAT16
    SDHC   2006     32GB     FAT32
    SDXC   2009      2TB     exFAT
    SDUC   2018    128TB     exFAT

Copyright © 1981-2019 by The Computer Language Company Inc. All Rights reserved. THIS DEFINITION IS FOR PERSONAL USE ONLY. All other reproduction is strictly prohibited without permission from the publisher.