universal product code
(redirected from UPC code)
Also found in:
Dictionary
,
Thesaurus
,
Financial
.
barcode
barcode, computer coding system that uses a printed pattern of lines and bars to identify such things as products, mail and packages, and customer accounts; the term also is used for similar coding systems that do not use bar-based patterns. Barcodes are read by optically scanning the printed pattern and using a computer program to decode the pattern. In a linear barcode system, the code itself contains no information about the item to which it is assigned but represents a string of identifying numbers or letters. When the code is read by an optical scanner linked to a computerized or networked device, the device can provide and record information about the item, such as its price or the quantity sold, from and to databases.
Americans Bernard Silver and Norman Woodland conceived of the first barcode system in the 1940s, but a practicable system was not feasible until George Laurer developed a scanner that could read barcodes years later. The first standardized barcode adopted for general use was the linear Universal Product Code (UPC), chosen by North American supermarkets in 1973. It entered commerical use in 1974, and became widely deployed in the 1980s. The original UPC used a set of two dark (usually black) and two light (usually white) bars of specified thicknesses to represent 12 numbers, but beginning in 2005 the Uniform Code Council, now known as GS1 US, adopted the similar European Article Numbering Code (EAN), which encodes 13 numbers and had become the international standard. The standards for the international product barcode system are managed by GS1, formerly known as EAN International, which is based in Brussels. The dark bars may be from one to three units wide and the light bars from one to four units. For registration purposes two one-unit dark bars are placed at each end and in the middle. Each item is assigned a unique numeric code, which is printed as a barcode on the item's packaging.
So-called two-dimensional (2D) barcodes permit the encoding of information about an item in addition to an identifying code. In a 2D barcode, two axes, or directions, are used for recording and reading the codes and the bar size is reduced, increasing the space available for data in the way that a column of words improves on a column of letters. Some 2D codes do not use bars, such as the United Parcel Service's hexagon-based Maxicode. Manufacturers and others now use 2D Quick Response (QR) codes on products and other objects to provide information associated with those items directly to individuals who can read the barcodes using smartphones. QR codes are also used for a variety of other purposes.
Radio-frequency identification (RFID) could supplant the barcode in most applications. Radio-based devices overcome many of the limitations inherent in the barcode's optical technology.
The Columbia Electronic Encyclopedia™ Copyright © 2022, Columbia University Press. Licensed from Columbia University Press. All rights reserved.
universal product code
[

¦yü·nə¦vər·səl ′präd·əkt 'kōd

]

(computer science)

A 10-digit bar code on the outside of a package for electronic scanning at supermarket checkout counters; each digit is represented by the ratio of the widths of adjacent stripes and white areas.

The corresponding combinations of binary digits into which the scanned bars are converted for computer processing that provides continuously updated inventory data and printout of the register tape at the checkout counter.

McGraw-Hill Dictionary of Scientific & Technical Terms, 6E, Copyright © 2003 by The McGraw-Hill Companies, Inc.
UPC
(Universal Product Code) The standard barcode printed on retail merchandise. The UPC is read by scanning the barcode at checkout counters in supermarkets and retail stores. Handheld UPC scanners are used to inventory merchandise stocked on shelves.

Global Trade Item Number (GTIN)
The UPC falls under the Global Trade Item Number (GTIN) identification system, which is administered by the GS1 organization (see GS1). The common 12-digit UPC-A code includes a vendor number assigned by GS1 along with the vendor's product number and a check digit. GTIN categories include numeric barcodes with 8, 12, 13 and 14 digits and also support alphanumeric (ASCII) characters.

Unlike the EPC code in an RFID system, the UPC does not include a unique serial number and cannot be used for individual item tracking. See EPC and RFID.

UPC scanning systems were introduced in the early 1970s. In the mid-1980s, UPCs were added to shipping containers, and mandates from retailers such as Walmart and K-Mart caused them to be widely adopted. See barcode and barcode scanner.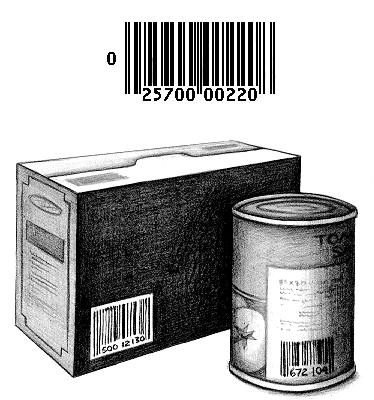 UPC Codes Everywhere
One can hardly find a retail package without the numeric UPC barcode label.
UPC Examples
UPC barcodes are ubiquitous and mandatory on nearly every saleable item. For small packages, the compressed six-digit UPC-E code is equivalent to the 12-digit UPC-A. (Images courtesy of GS1 US, www.gs1us.org)
Copyright © 1981-2019 by The Computer Language Company Inc. All Rights reserved. THIS DEFINITION IS FOR PERSONAL USE ONLY. All other reproduction is strictly prohibited without permission from the publisher.