USB Type C
Also found in:
Dictionary
,
Thesaurus
,
Medical
,
Financial
.
USB Type C
The latest USB connector, introduced in 2014. Using a plug and socket slightly larger than Micro USB, Type C is expected to eventually replace all USB connectors. In 2015, the OnePlus 2, Nexus 5X and Nexus 6P were among the first Android phones to switch from Micro USB to Type C. See USB.

More Speed and Power
USB Type C supports multi-lane USB 3.2, which increased the transfer rate to 20 Gbps. At the base level, USB-C supports 5 volts at 3 amps, but ports can implement up to 20 volts at 5 amps (100 watts). See USB Power Delivery and USB 3.2.

Alternate Modes for Video
USB Type C also supports alternate modes for common video interfaces such as HDMI, MHL and DisplayPort. For example, a single C-to-C cable from laptop to monitor could send DisplayPort signals to the monitor while the monitor charges the laptop. See HDMI, MHL and DisplayPort.

Beware of Non-Compliant A-to-C Cables
USB Type C devices can draw more current than earlier Type A ports can deliver. Therefore, if a Type C device is used with a Type A 2.0 or 3.0 port, the cable should have a 56K Ohm resistor to prevent the port or computer from being damaged.



Type C Is Reversible
USB Type C (left) is smaller than the traditional Type A (right). USB-C is also reversible and can be plugged into the port in either orientation. See reversible plug.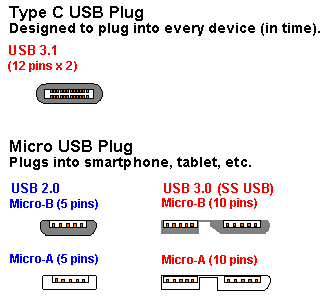 USB-C Is Replacing Micro USB
The first USB Type C implementations have been smartphones. For example, in 2017, Samsung switched its Galaxy line from Micro USB to USB-C.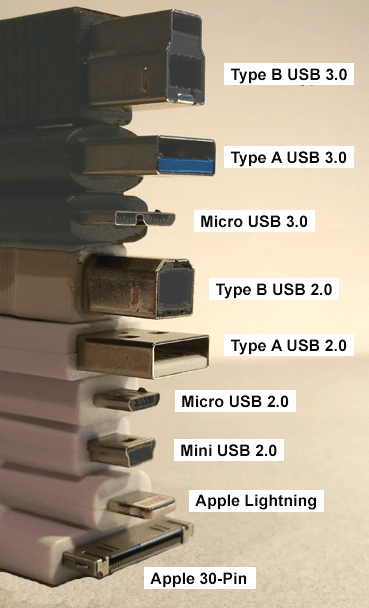 The Mess Today
USB Type C was designed to replace all previous USB connectors. Even A-to-B host-peripheral interfaces are expected to become obsolete because USB-C ports can recognize which side is which (see USB Type B).
Storage That Plugs Into A and C
Kingston's microDuo USB drive plugs into Type A and C. (Image courtesy of Kingston Technology Corporation, www.kingston.com)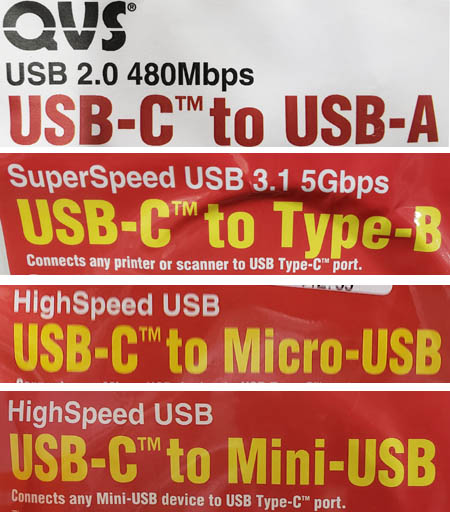 Conversion to Type C
As soon as USB Type C debuted, conversion cables for existing USB ports came on the market.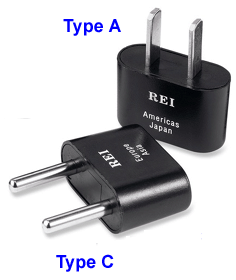 A Different Type A and C in Europe
The standard electrical outlet in Europe is Type C, but it has nothing to do with USB. (Image courtesy of Recreational Equipment, Inc., www.rei.com)
Copyright © 1981-2019 by The Computer Language Company Inc. All Rights reserved. THIS DEFINITION IS FOR PERSONAL USE ONLY. All other reproduction is strictly prohibited without permission from the publisher.