Ui
(redirected from Ulcer Index)
Also found in:
Dictionary
,
Financial
,
Wikipedia
.
UI
(1)
UI
(2)

This article is provided by FOLDOC - Free Online Dictionary of Computing (foldoc.org)
The following article is from The Great Soviet Encyclopedia (1979). It might be outdated or ideologically biased.
Ui
a river in Cheliabinsk Oblast, RSFSR, with the upper course in the Bashkir ASSR. The Ui, which partly flows along the border between the Kazakh SSR and Cheliabinsk and Kurgan oblasts, is a left tributary of the Tobol River of the Ob' River basin. It is 462 km long and drains an area of 34,400 sq km. It rises on the eastern slopes of the southern Urals and flows first across the Trans-Ural Plateau and then, in the lower course, across the Western Siberian Plain. Its basin includes many lakes with no outlets. The river is fed mainly by snow. The mean flow rate 213 km from the mouth is approximately 13 cu m per sec. The Ui freezes in November and opens up in April. It provides water for drinking and irrigation. The city of Troitsk is situated on the river. There are three reservoirs along the Ui, the largest of which is the Troitsk Reservoir, with an area of 10.8 sq km.
---
Ui
a river in Novosibirsk and Omsk Oblasts, RSFSR; a right tributary of the Irtysh River of the Ob' River basin. The Ui, which rises on the Vasiugan'e Plain, is 387 km long and drains an area of 26,700 sq km. It is fed primarily by snow. The high-water period lasts from April to June. The mean flow rate 48 km from the mouth is approximately 24 cu m per sec. The river freezes in late October or early November and opens up in April or early May.
The Great Soviet Encyclopedia, 3rd Edition (1970-1979). © 2010 The Gale Group, Inc. All rights reserved.
GUI
(Graphical User Interface) The common method of interacting with a computer that allows any image to be displayed on screen. Except for entering text on the keyboard, the primary way the computer is operated is with a mouse or touchpad pointing device. The mouse/touchpad is used to select icons and menu options as well as move and resize windows that frame the application and elements within it. The major GUIs are Windows and Mac along with GNOME and KDE for Linux.

From Characters to Graphics
With the advent of the Mac in the mid-1980s and Windows in the 1990s, GUIs replaced the character-based display with a graphics display that eliminated the need to enter cryptic commands in a required sequence. In addition, fonts could be changed and resized on screen, providing a what-you-see-is-what-you-get (WYSIWYG) capability for creating printed materials. However, all major operating systems still include a command line interface that lets programmers and power users enter commands to perform certain tasks faster and more easily than with a mouse (see command line). See user interface, UI types, drag and drop, desktop manager, window manager and Star.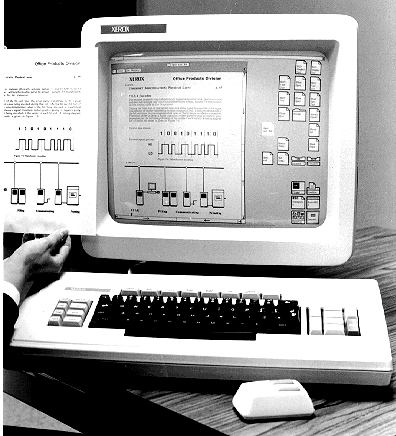 The First Commercial GUI
Xerox's Star workstation was the first commercial implementation of the GUI. Introduced in 1981, the Star was the inspiration for the Mac, which debuted in 1984. (Image courtesy of Xerox Corporation.)
The Mac GUI
The top screen shot is an early Mac desktop ("Power Dude" was the name of the hard disk). Notice the difference between the icons, fonts and window borders on the old interface compared to the Mac window (bottom). (Top screen shot courtesy of Peter Hermsen.)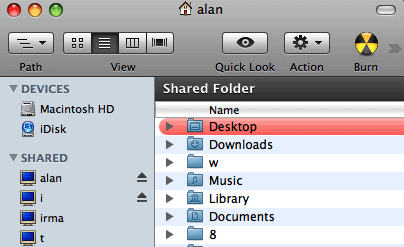 The Mac GUI
The top screen shot is an early Mac desktop ("Power Dude" was the name of the hard disk). Notice the difference between the icons, fonts and window borders on the old interface compared to the Mac window (bottom). (Top screen shot courtesy of Peter Hermsen.)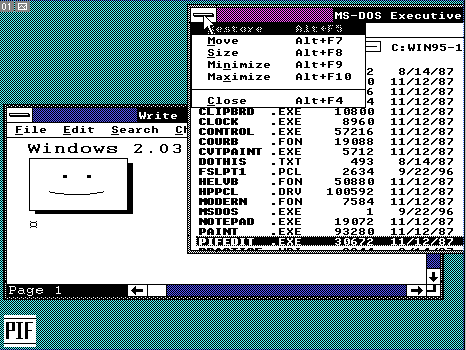 Early Windows
This was the Windows 2.0 interface in the late 1980s. As rigid as it looks, it was an improvement over Windows 1.0 because it supported resizable windows that could overlap. (Image courtesy of Ian Albert, www.ianalbert.com)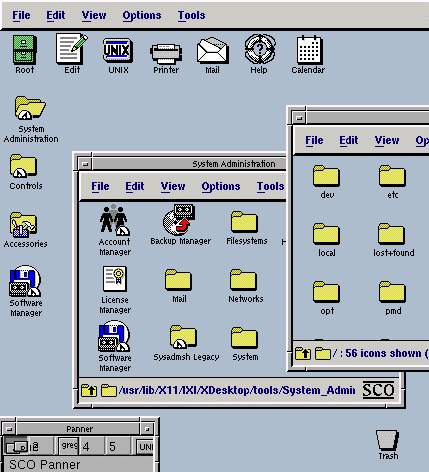 Unix Workstations
The Motif graphical interface was added to the command-line world of Unix workstations in the 1980s. (Screen shot courtesy of The Santa Cruz Operation, Inc.)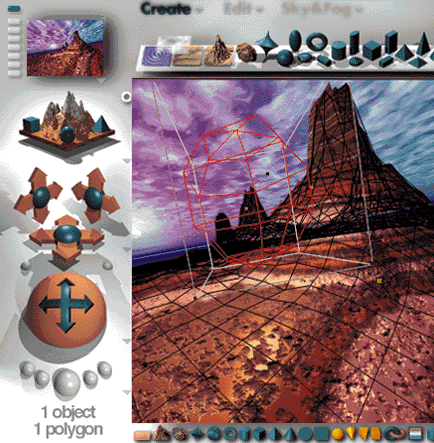 A Design Revolution
GUIs enabled imaginative interfaces. In this earlier Bryce 3D modeling program, the bottom left symbols were camera controls (trackball and x, y, z axes). On top were primitive graphic elements. (Screenshot courtesy of MetaCreations Corporation.)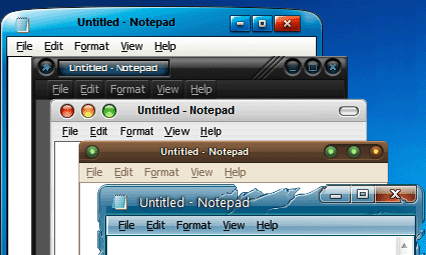 Custom Looks for Windows
Stardock's WindowBlinds allows Windows users to have a unique desktop with thousands of pre-built designs to choose from. (Image courtesy of Stardock Corporation, Inc., www.stardock.com)
---
UI types
(User Interface types) There are several acronyms that refer to the way computers are operated. See user interface.


Type   Stands For GUI    Graphical UI

  CUI    Character-based UI

  NUI    Network UI

  MUI    Mobile UI,
        Multilingual UI

  TUI    Telephone UI

---
user interface
The way a person interacts and commands a computer, tablet, smartphone or other electronic device. The user interface (UI) comprises the screen menus and icons, keyboard shortcuts, mouse and gesture movements, command language and online help.

Command Line vs. GUI
The user interface in the earliest computers comprised buttons and dials. Although the first personal computers had screens, the computer was operated by typing text commands. Starting with the Mac in 1984 and Windows 3.0 in 1990, the mouse-oriented graphical user interface (GUI) emerged, which simulates a desktop environment. See GUI and desktop environment.

The Bar Was Set Low
The user interface is the most important and least-understood area in the tech industry. Every application has only a handful of basic functions that users need all the time, yet they are often buried in unintuitive submenus. Worse yet, once bad examples are set by major vendors, others follow like sheep (see Control key). Since popular applications are often hard to learn, users have come to expect that software has to be difficult, when in fact, it could be downright simple if educated designers were involved. One glimmer of light was the advent of the smartphone. Its small screen forces designers to think more about usability, but not always. Smartphone apps can be as obtuse as desktop apps. See good user interface, first-time user menu and dynamic user menu.

Users Are Reluctant to Change
Because of the steep learning curves people have to endure, many are disinclined to change applications. While the software industry constantly touts "productivity gains" for every new product, the lost hours figuring out how to do something, combined with the gun-shy reluctance to actually try a different product that might really be an improvement often impede productivity.

Ask and Ye Shall Receive
Voice and natural language input and verbal output are increasingly standard components of the user interface, and they can be an enormous help. However, recognizing human speech is a daunting computational task. Sometimes the results people get are laughable. Nevertheless, improvements come every year in this arena (see virtual assistant). See RTFM, user experience, naming fiascos, Freedman's law, flat UI, Web rage, HCI and HMI.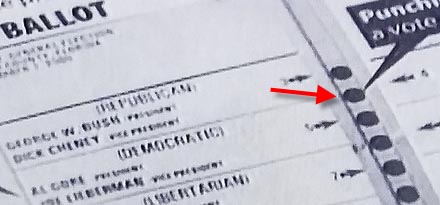 It Can Change World History
The Florida recount in the 2000 U.S. presidential election kept the country in limbo for weeks. The confusing punch card ballot in Palm Beach County gave Pat Buchanan two thousand votes that very likely might have gone to Al Gore.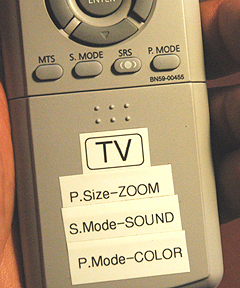 Give Us A Break!
Our dazzling HDTVs do not prevent dopey button naming. This family's salvation was to attach labels on their remote control.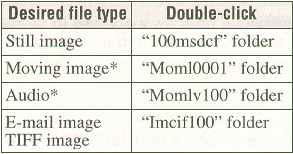 Read the Manual (RTFM)
Was there a contest for how ridiculous one could name the folders (right column) in this camera's memory card? Is something wrong with names such as Still, Movie, Audio, and Email?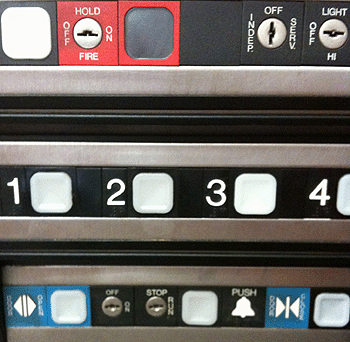 Keep the Elevator Door Open
The big red button that catches your eye in this building elevator is for an exceedingly rare emergency. Wouldn't "Big Red" be better as a "Door Open" button? People always scramble to stop the door from closing on someone.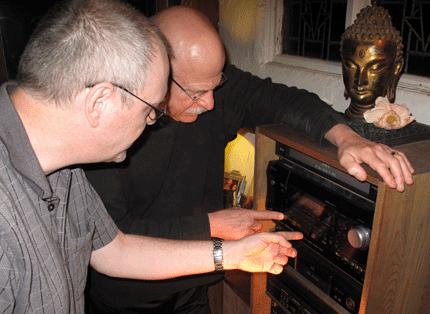 A Century of Experience Didn't Help
With a combined 99 years of audio experience, Alan Freedman, author of this encyclopedia (right) and his colleague Pete Hermsen, who built a radio at age eight, struggled in vain to balance the speakers on Freedman's new receiver. The manual was worthless (see RTFM).
No Kidding
After changing a password on a website, this user-friendly message appeared. Translated: "we don't have a clue how our software got you here!"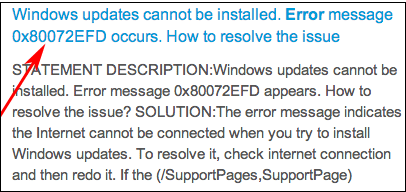 Do We Really Need This Message Number?
The last two sentences in this message are sufficient. Why do we need an error message in hexadecimal? However, now and then, Microsoft has led the pack with really superior designs (see good user interface).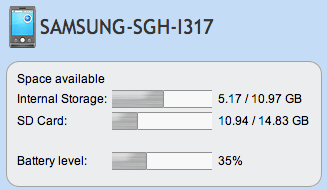 I Thought My Phone Was a Note II
Why not identify the device by its common name? Samsung woke up later on and displayed the model name everyone knows.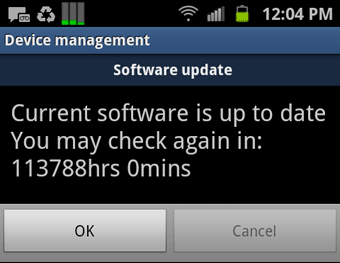 Really?
This popped up on an old Android phone. The testing of this software was a bit lax.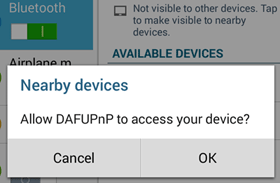 Da Fup What??
In English, this means "Allow nearby devices to access your device?" See Device Association Framework.

OK. Bad Formula. But Where?
This spreadsheet explains the type of error but never states which cells contain the problem. In other words "you goofed but we're not gonna tell you where."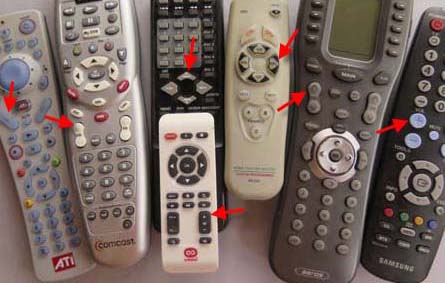 Remotes Are No Exception
Remote control designs are all over the place. Even the volume and channel buttons can be anywhere (red arrows point to Volume Up).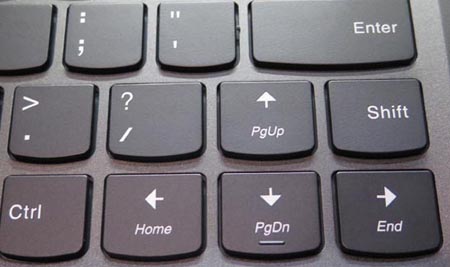 Touch Typist Torment
Any touch typist not noticing that the Up Arrow key was in the Right Shift key location would return this laptop immediately. The buyer of this machine actually did.

Ya Gotta Be Kidding
How do we look up the "Some" error!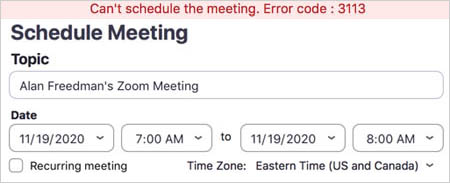 Even in 2020
Why display an error number when this Zoom message means "enable either a passcode or waiting room." Just say it.

Priceless
Not related to tech but so idiotic we had to include it. These "informative" instructions were on a charcoal grill in 2015.
Copyright © 1981-2019 by The Computer Language Company Inc. All Rights reserved. THIS DEFINITION IS FOR PERSONAL USE ONLY. All other reproduction is strictly prohibited without permission from the publisher.