Union Joint
Also found in:
Dictionary
.
union joint
[

′yün·yən 'jȯint

]

(design engineering)

A threaded assembly used for the joining of ends of lengths of installed pipe or tubing where rotation of neither length is feasible.
Union Joint
a detachable joint, formed by means of a union, that is used to connect the parts of a piping system to various tanks or machines. Besides a union, a union joint consists of a gasket, a locknut, and a reducer, such as an elbow or a coupling (Figure 1). The pipe to be connected is screwed into the reducer.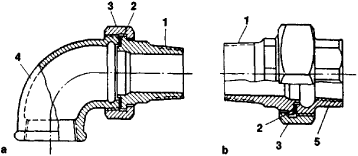 When the locknut is loosened, the reducer, together with the pipe screwed into it, may be turned relative to the axis of the union. A rigid, airtight joint is obtained by tightening the locknut.
union joint
A pipe joint made with a
union.