Uronic Acid
Also found in:
Dictionary
,
Medical
,
Wikipedia
.
uronic acid
[

yə′rän·ik ′as·əd

]

(organic chemistry)

One of the compounds that are similar to sugars, except that the terminal carbon has been oxidized from the alcohol to a carboxyl group; for example, galacturonic acid and glucuronic acid.

McGraw-Hill Dictionary of Scientific & Technical Terms, 6E, Copyright © 2003 by The McGraw-Hill Companies, Inc.
The following article is from The Great Soviet Encyclopedia (1979). It might be outdated or ideologically biased.
Uronic Acid
any of the organic substances that are related to monosaccharides but that are distinguished from the latter by having a carboxyl group (—COOH) in place of the—CH2OH radical. The difference is illustrated by the following structural formulas: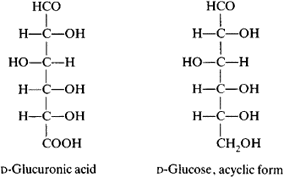 Uronic acids are crystalline or amorphous substances that are nonvolatile, relatively high-melting, and readily soluble in water and polar solvents. Chemically, they possess the properties of both monosaccharides (mutarotation, oxidation, reduction, ability to form glycosides) and hydroxy acids (formulation of esters and lactones). Uronic acids occur in nature with six carbon atoms, and their names are based on the corresponding hexose. The name "glucuronic acid," for example, derives from "glucose."
Uronic acids are constituents of many important biopolymers of plant and animal origin. D-glucuronic acid is a component of hemicelluloses, gums, hyaluronic acid, and heparin; D-galacturonic acid, which is the monomeric unit of pectic substances, is a constituent of certain bacterial polysaccharides. The biosynthesis of uronic acids occurs with the participation of nucleoside diphosphate sugars and involves the oxidation of the—CH2OH radical of the monosaccharide. In animals, D-glucuronic acid (found in the blood and urine) removes toxic substances by forming glycosides; the acid is also the starting material in the biosynthesis of absorbic acid.
REFERENCE
Khimiia uglevodov. Moscow, 1967. Chapter 10.
The Great Soviet Encyclopedia, 3rd Edition (1970-1979). © 2010 The Gale Group, Inc. All rights reserved.