scan
(redirected from V/Q scan)
Also found in:
Dictionary
,
Thesaurus
,
Medical
.
scan
Med
a. the examination of a part of the body by means of a scanner
b. the image produced by a scanner
Collins Discovery Encyclopedia, 1st edition © HarperCollins Publishers 2005
scan
[

skan

]

(computer science)

To examine information, following a systematic, predetermined sequence, for some particular purpose.

(electronics)

The motion, usually periodic, given to the major lobe of an antenna; the process of directing the radio-frequency beam successively over all points in a given region of space.

(engineering)

To examine an area, a region in space, or a portion of the radio spectrum point by point in an ordered sequence; for example, conversion of a scene or image to an electric signal or use of radar to monitor an airspace for detection, navigation, or traffic control purposes.

One complete circular, up-and-down, or left-to-right sweep of the radar, light, or other beam or device used in making a scan.

McGraw-Hill Dictionary of Scientific & Technical Terms, 6E, Copyright © 2003 by The McGraw-Hill Companies, Inc.
scan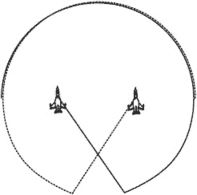 i
. To search the sky for any hostile aircraft. The area of the scan for a typical two-aircraft formation is indicated in the illustration. In flight, the term means "Search the sector indicated and report any contacts."
ii
. To make a sweep of selected flight instruments or an external scene with the eyes.
iii
. The path periodically followed by a radiation beam. See
helical scan
and
conical scanning
.
iv
. The motion of an electronic beam through space looking for a target. Scanning is carried out by the motion of the antenna or by lobe switching.
An Illustrated Dictionary of Aviation Copyright © 2005 by The McGraw-Hill Companies, Inc. All rights reserved
SCAN
(1)

["A Parallel Implementation of the SCAN Language", N.G. Bourbakis, Comp Langs 14(4):239-254 (1989)].
SCAN
(2)
scan
(3)
scan
(4)
scan
(5)
scan
(storage, algorithm)

An algorithm for scheduling multiple accesses to a disk. A number of requests are ordered according to the data's position on the storage device. This reduces the disk arm movement to one "scan" or sweep across the whole disk in the worst case. The serivce time can be estimated from the disk's track-to-track

seek

time, maximum seek time (one scan), and maximum

rotational latency

.

Scan-EDF

is a variation on this.

This article is provided by FOLDOC - Free Online Dictionary of Computing (foldoc.org)
scan
(1) To make an electronic comparison of a signal, pixel or data structure as described in the following definitions.

(2) In optical technologies, to read a printed form a line at a time in order to convert images into bitmapped representations or convert characters into text. See OCR.

(3) In video, to move across a picture frame a line at a time, either to detect the image in an analog or digital camera, or to refresh a CRT display.

(4) To search a data file sequentially for specific content.

(5) To search an executable file for a particular pattern. See antivirus program.

(6) To sequentially search for peripheral devices attached to the computer.

Copyright © 1981-2019 by The Computer Language Company Inc. All Rights reserved. THIS DEFINITION IS FOR PERSONAL USE ONLY. All other reproduction is strictly prohibited without permission from the publisher.