scan
(redirected from V/Q scan)
Also found in:
Dictionary
,
Thesaurus
,
Medical
.
scan
Med
a. the examination of a part of the body by means of a scanner
b. the image produced by a scanner
scan
[

skan

]

(computer science)

To examine information, following a systematic, predetermined sequence, for some particular purpose.

(electronics)

The motion, usually periodic, given to the major lobe of an antenna; the process of directing the radio-frequency beam successively over all points in a given region of space.

(engineering)

To examine an area, a region in space, or a portion of the radio spectrum point by point in an ordered sequence; for example, conversion of a scene or image to an electric signal or use of radar to monitor an airspace for detection, navigation, or traffic control purposes.

One complete circular, up-and-down, or left-to-right sweep of the radar, light, or other beam or device used in making a scan.
scan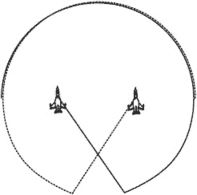 i
. To search the sky for any hostile aircraft. The area of the scan for a typical two-aircraft formation is indicated in the illustration. In flight, the term means "Search the sector indicated and report any contacts."
ii
. To make a sweep of selected flight instruments or an external scene with the eyes.
iii
. The path periodically followed by a radiation beam. See
helical scan
and
conical scanning
.
iv
. The motion of an electronic beam through space looking for a target. Scanning is carried out by the motion of the antenna or by lobe switching.
SCAN
(1)

["A Parallel Implementation of the SCAN Language", N.G. Bourbakis, Comp Langs 14(4):239-254 (1989)].
SCAN
(2)
scan
(3)
scan
(4)
scan
(5)
scan
(storage, algorithm)
scan
(1) To make an electronic comparison of a signal, pixel or data structure as described in the following definitions.

(2) In optical technologies, to read a printed form a line at a time in order to convert images into bitmapped representations or convert characters into text. See OCR.

(3) In video, to move across a picture frame a line at a time, either to detect the image in an analog or digital camera, or to refresh a CRT display.

(4) To search a data file sequentially for specific content.

(5) To search an executable file for a particular pattern. See antivirus program.

(6) To sequentially search for peripheral devices attached to the computer.