Vehicle Unloader
The following article is from The Great Soviet Encyclopedia (1979). It might be outdated or ideologically biased.
Vehicle Unloader
a motor vehicle tilter, an apparatus for discharging free-flowing bulk loads from bodies mounted on motor vehicles. There are stationary and mobile (including self-propelled), dead-end and drive-through vehicle unloaders. The stationary vehicle unloaders are usually employed at grain elevators and the mobile type at winnowing points and at transshipment areas for gravel, crushed rock, and other materials. The hoisting system of a vehicle unloader can operate on either a hydraulic or a mechanical hoisting principle. To be unloaded, a motor vehicle is driven onto the unloader's platform, which is equipped with a device for tilting it at an angle. Projections or stops on the platform for the vehicle's wheels hold the vehicle while it is tilted. The motor vehicle is tilted either backward or sideways.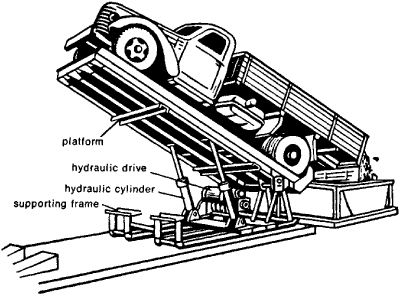 The Great Soviet Encyclopedia, 3rd Edition (1970-1979). © 2010 The Gale Group, Inc. All rights reserved.