Velarium
Also found in:
Dictionary
,
Wikipedia
.
velarium
[

və′lar·ē·əm

]

(invertebrate zoology)

The velum of certain scyphozoans and cubomedusans distinguished by the presence of canals lined with endoderm.
Velarium
A large tent-like arrangement drawn up over an amphitheater to protect spectators from the sun.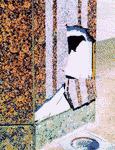 velarium
The awning sheltering the seats in an ancient Roman theater or amphitheater from sun and rain.