Vermiculite
Also found in:
Dictionary
,
Thesaurus
,
Wikipedia
.
vermiculite
[

vər′mik·yə'līt

]

(mineralogy)

(Mg,Fe,Al)3(Al,Si)4O10(OH)2·4H2O A clay mineral constituent similar to chlorite and montmorillonite, and consisting of trioctahedral mica sheets separated by double water layers; sometimes used as a textural material in painting, or as an aggregate in certain plaster formulations used in sculpture.

McGraw-Hill Dictionary of Scientific & Technical Terms, 6E, Copyright © 2003 by The McGraw-Hill Companies, Inc.
Vermiculite
A generic name for treated minerals which are used for insulation and fire protection, often as an aggregate in plaster or concrete.
Illustrated Dictionary of Architecture Copyright © 2012, 2002, 1998 by The McGraw-Hill Companies, Inc. All rights reserved
The following article is from The Great Soviet Encyclopedia (1979). It might be outdated or ideologically biased.
Vermiculite
a mineral of the hydromica group with a schistous structure and additional interlaminate molecular water. Upon heating, small vermiform rods are formed from the layers of vermiculite. Chemical composition corresponds approximately to the formula Mgx(Mg, Fe)3 x[AlSi3 O10] · (OH)2 · 4H2O. It crystallizes in a monoclinic system and forms laminated aggregates or large laminated crystals of a golden yellow or brown color. Hardness on the mineralogical scale, 1-1.5; density, 2400-2700 kg/m3. It is not susceptible to pulverization and is similar to graphite in lubricating qualities.
When heated to a temperature of 900-1000° C, vermiculite swells (as a result of flaking of particles under the influence of evaporating interlaminate water), with an increase in volume of 15-20 times. Interlayers of air arising between the scaly layers of the mineral cause low density and high heat-and sound-insulating properties of exfoliated vermiculite. Vermiculite is a product of secondary change in dark micas (biotite and phlogopite). Commercial deposits of vermiculite in the USSR are known on the Kola Peninsula (Murmansk Oblast) and in the Urals (Cheliabinsk Oblast); and abroad, in the USA (Montana, Colorado, Wyoming, North Carolina, and Georgia) and in western Australia. Vermiculite is used in construction for the manufacture of heat-insulating products, sound-absorbing materials, lightweight concrete, and plastering solutions; as a filler in rubber, plastic, paints, chemical pesticides; in the manufacture of antifriction materials; and in agriculture, to improve soil structure.
The Great Soviet Encyclopedia, 3rd Edition (1970-1979). © 2010 The Gale Group, Inc. All rights reserved.
vermiculite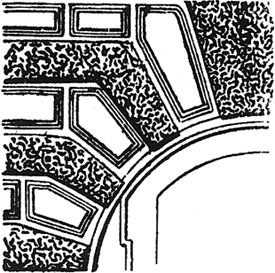 A natural mica expanded by heat(i.e.,
exfoliated
) to form lightweight thermal insulating
McGraw-Hill Dictionary of Architecture and Construction. Copyright © 2003 by McGraw-Hill Companies, Inc.