Vertical siding
Vertical siding
A type of siding consisting of matched boards 10 and 12 inches wide, or they may be of random widths, the joints being either a V-cut or covered with battens.
Illustrated Dictionary of Architecture Copyright © 2012, 2002, 1998 by The McGraw-Hill Companies, Inc. All rights reserved
vertical siding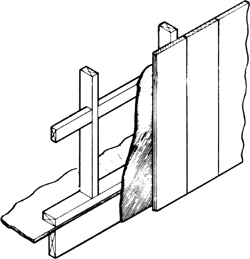 A type of exterior wall
cladding
attached to the wall in a vertical orientation; most often consists of wide, upright boards that have a tongue along one vertical edge and a groove along the opposite edge; also see
siding
and
tongue-and-groove joint
.
McGraw-Hill Dictionary of Architecture and Construction. Copyright © 2003 by McGraw-Hill Companies, Inc.