Video Telephone
Also found in:
Dictionary
.
video telephone
[

′vid·ē·ō ′tel·ə'fōn

]

(communications)

A communication instrument which transmits visual images along with the attendant speech. Also known as videophone.

McGraw-Hill Dictionary of Scientific & Technical Terms, 6E, Copyright © 2003 by The McGraw-Hill Companies, Inc.
The following article is from The Great Soviet Encyclopedia (1979). It might be outdated or ideologically biased.
Video Telephone
a form of communication in which subscribers see as well as hear each other and can show illustrations, photographs, and texts and obtain graphic in-formation and data from a digital computer.
The video telephone apparatus consists of telephone apparatus, a video unit whose receiver contains a kinescope and whose transmitter contains a television tube (vidicon), and a control panel with operating control members. The video telephone apparatus is placed on a subscriber's work-table or in a telephone booth. The images are transmitted over two communications channels, one for each direction. Dialing a subscriber's number and talking with him is done in the same way as in telephone conversation. The image, as in television, is broken up into lines and frames. The number of lines used is between 200 and 400 (most frequently 220-280), and the number of frames is between 25 and 30 per second (with alternate-line scanning). The width of the frequency spectrum for the original signal varies between 200 and 1,200 kHz. The frequency band of the communications channel can be narrower at the cost of reduced physiological and statistical redundancy in the transmitted information.
The beginning of the development of video telephones dates to the 1930's. Systems with different parameters were tested in various countries. In Germany a video telephone was put into service between Berlin and Leipzig on Mar. 1, 1936; later, Nuremberg (1937) and Munich (1938) were added. The images were transmitted on wide-band cables and occupied a frequency band of 500 kHz. In October 1961, video telephone communication was set up from Moscow to Leningrad and Kiev on existing television channels of the intercity communications lines. In later years public video telephones also appeared in Tallin, Vilnius, Kaunas, L'vov, Kazan, Tashkent, and other cities. Since the 1960's, work has been under way in the USSR, the USA, Japan, the Federal Republic of Germany, and other countries to develop video telephone systems in which the images are transmitted for great distances over group channels of long-distance communications systems utilizing frequency or time division of the channels and over short distances (several kilometers) on existing city telephone circuits or special communication lines.
REFERENCE
Savanchuk, V. A., and K. A. Alekseev. "Videotelefon." Vestnik sviazi, 1962, no. 4.

IU. S. MILEVSKII

A. B. POLONSKII
The Great Soviet Encyclopedia, 3rd Edition (1970-1979). © 2010 The Gale Group, Inc. All rights reserved.
video calling
Making a visual call to one or more people. The term originally meant a one-to-one call in order to differentiate it with sophisticated and expensive videoconferencing room systems in companies. Today, video calling, videoconferencing and video chat are used synonymously. See video chat, videoconferencing and videophone.
---
videophone
(VIDEO telePHONE) A device with a camera and screen for visual, real-time communications, commonly known as "video calling." After AT&T debuted its Picturephone at the New York World's Fair in 1964, many expected videophones in the near future. Some 30 years later, AT&T introduced its VideoPhone-branded line at USD $1,000 per phone. Other vendors entered the market, but the bandwidth limitation of dial-up phone lines and the high cost of entry kept them from taking off.

Forty Years After the World's Fair
Due to high-speed cable and DSL, videophoning eventually became popular on the computer via software. Offering free video calling worldwide in 2006, Skype popularized the experience, and within a few years, Apple and Android phones and tablets would usher in a new world. See video calling, Webcam, Skype, videoconferencing and Picturephone.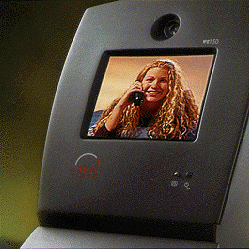 An Early Videophone
Throughout the 1990s, several companies promoted videophones, but squeezing real-time video over analog phone lines was dreadful. This ViaTV from 8x8 produced respectable quality as long as nobody moved; otherwise the image would pixelate. Subsequent 8x8 models used cable modems and DSL. (Image courtesy of 8x8, Inc.)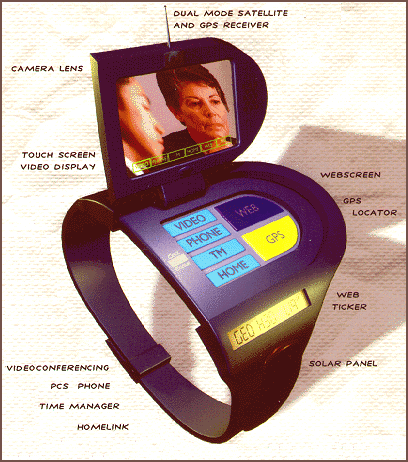 The Videophone Wristwatch
In 2000, Hitachi used this illustration to advertise its SuperH series chips. The ad said the device of course did not exist, but the Hitachi microprocessor to power it was already available. (Image courtesy of Hitachi America, Ltd.)
Copyright © 1981-2019 by The Computer Language Company Inc. All Rights reserved. THIS DEFINITION IS FOR PERSONAL USE ONLY. All other reproduction is strictly prohibited without permission from the publisher.