Videotape Recorder
Also found in:
Dictionary
,
Wikipedia
.
videotape recorder
[

¦vid·ē·ō′tāp ri'kȯrd·ər

]

(electronics)

A device for video recording and playing of a magnetic tape either in a video cassette or on an open reel.

McGraw-Hill Dictionary of Scientific & Technical Terms, 6E, Copyright © 2003 by The McGraw-Hill Companies, Inc.
The following article is from The Great Soviet Encyclopedia (1979). It might be outdated or ideologically biased.
Videotape Recorder
a machine for the recording on magnetic tape and the subsequent reproduction of the electrical signals of the image and sound track of television transmissions. The operating principle of a videotape recorder is similar to that of the ordinary tape recorder. However, the magnetic recording of video signals, which occupy a frequency range of 6-7 megahertz (MHz), requires a much greater tape speed relative to the magnetic head. In video-tape recorders this is accomplished by the use of a rotating disk with magnetic heads that can move at a rate of 20-50 m/sec at a certain angle to the tape, which moves longitudinally at a rate of 20-40 cm/sec (see Figure 1).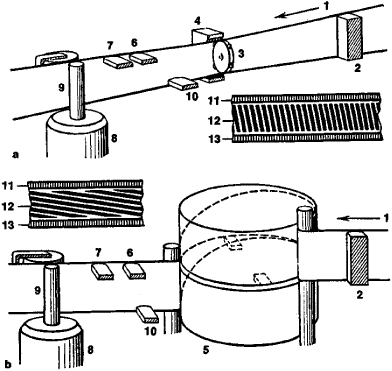 Videotape recorders usually use wide magnetic tape (12.7 or 50.8 mm), on which the video recording tracks are arranged in a slanting pattern. The sound track is recorded by a stationary magnetic head along one edge of the tape. The speed of rotation of the disk with the magnetic heads is synchronized with the tape speed by an automatic control system that uses a control signal that is itself also recorded by a fixed magnetic head on the other edge of the tape; this ensures a constant distance between the slanting tracks (recording pitch) during video recording and the precise centering of the heads with the tracks during reproduction. Since each of the video recording heads comes in contact with the tape during some portion of the head's complete revolution, an electronic switch that alternately connects and disconnects the heads to the playback amplifier is used to obtain a continuous video signal. To eliminate noticeable distortions in the video playback signal caused by differing head characteristics or interrupted contact between the heads and the tape, the video signal is converted to a frequency-modulated signal before recording. During subsequent playback the video signal is limited in amplitude and fed into a demodulator, where it is converted back into the original video signal.
Videotape recorders of more complicated structure, with four rotating heads, have the best recording and playback quality and are generally used in television broadcasting. Recorders with one and two heads are of somewhat poorer quality (frequency pass band, 2-3 MHz) and are used in closed-circuit television systems and for amateur purposes.
The Great Soviet Encyclopedia, 3rd Edition (1970-1979). © 2010 The Gale Group, Inc. All rights reserved.