Viga
(redirected from Vigas)
Also found in:
Dictionary
,
Wikipedia
.
The following article is from The Great Soviet Encyclopedia (1979). It might be outdated or ideologically biased.
Viga
a river in Kostroma Oblast, RSFSR; a right tributary of the Unzha. The Viga is 175 km long and has a basin area of 3,360 sq km. The river originates in the Galich Upland and flows through flat country. The channel is meandering. The Viga is fed by snow and rain. It freezes in November, and the ice breaks up at the beginning of April. The river is used for floating timber.
The Great Soviet Encyclopedia, 3rd Edition (1970-1979). © 2010 The Gale Group, Inc. All rights reserved.
viga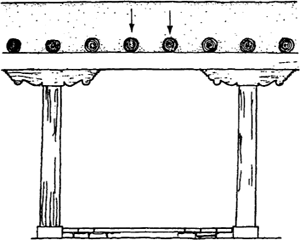 In Spanish Colonial architecture and its derivatives, a log that has been stripped of its bark and unhewn; used as one of a number of roof beams spanning the width of a building between opposite adobe walls; usually evenly
McGraw-Hill Dictionary of Architecture and Construction. Copyright © 2003 by McGraw-Hill Companies, Inc.