Vintage Radio Museum
Also found in:
Dictionary
,
Thesaurus
,
Medical
.
Vintage Radio Museum
(Vintage Radio and Communications Museum of Connecticut, 115 Pierson Lane, Windsor, CT, www.vrcmct.org) The home of the largest collection of early radios in the U.S. Founded in 1990 by John Ellsworth, the Radio Museum also includes early telephone communications equipment and personal computers. The 20,000 square foot building, the latest of many venues for the collection, is staffed by volunteers who fix radios, give tours and work in any and all capacities to keep the museum functioning. In addition, thousands of vacuum tubes as well as radio and TV schematics can be purchased. See vacuum tube and radio.




Some of the Displays
Founder John Ellsworth (top) is sitting at an early radio repair desk next to a collection of early radios, some of which are highlighted below. The Museum's collection of early electronics memorabilia is outstanding.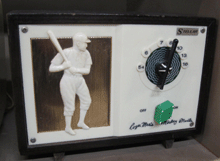 Imaginative Designs
As radios took hold in the 1940s, they became targets for creative themes such as these baseball, hand-painted breadbox and liquor bar models. (Equipment courtesy of Vintage Radio and Communications Museum of Connecticut, www.vrcmct.org)
Imaginative Designs
As radios took hold in the 1940s, they became targets for creative themes such as these baseball, hand-painted breadbox and liquor bar models. (Equipment courtesy of Vintage Radio and Communications Museum of Connecticut, www.vrcmct.org)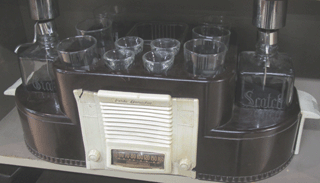 Imaginative Designs
As radios took hold in the 1940s, they became targets for creative themes such as these baseball, hand-painted breadbox and liquor bar models. (Equipment courtesy of Vintage Radio and Communications Museum of Connecticut, www.vrcmct.org)