Virtual Displacements
The following article is from The Great Soviet Encyclopedia (1979). It might be outdated or ideologically biased.
Virtual Displacements
elementary (infinitely small) displacements that a point in a mechanical system can undergo from the position occupied by it at a given moment in time without violating the constraints imposed on the system. Virtual displacement is a purely geometric concept and does not depend on actual forces. It is determined only by the type of constraints imposed on the system and is introduced as a property of these constraints, showing what displacements are possible in the system under the imposed constraints. For example, if a surface is the constraint for a point and the point is in position M on the surface at a given moment (see Figure 1), then the virtual displacements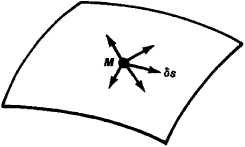 of the point at that moment will be elementary segments (vectors) of length δs along the tangent to the surface at point M. Displacement in any other direction would not be virtual displacement, since it would violate the constraint (the point would no longer be on the surface). The concept of virtual displacement applies both to a resting and a moving point. If a constraint does not change with time, then the true elementary displacement ds of a moving point from position M coincides with a virtual displacement.
The concept of virtual displacement is used to determine the conditions of equilibrium and equations of motion of a mechanical system and also to find the number of degrees of freedom in a system.
The Great Soviet Encyclopedia, 3rd Edition (1970-1979). © 2010 The Gale Group, Inc. All rights reserved.