Visé
Also found in:
Dictionary
,
Thesaurus
,
Medical
,
Legal
,
Financial
,
Wikipedia
.
Visé
Visé
(vēzāˈ)
, commune (1991 pop. 17,019), Liège prov., E Belgium, on the Meuse River and on the Albert Canal, near the Dutch border. It is a center of cement manufacture. The first battle of World War I was fought there on Aug. 4, 1914. After a fire the same year, the town was rebuilt. It is also known as Wezet.
The Columbia Electronic Encyclopedia™ Copyright © 2022, Columbia University Press. Licensed from Columbia University Press. All rights reserved.
The following article is from The Great Soviet Encyclopedia (1979). It might be outdated or ideologically biased.
Vise
a device designed to hold a workpiece in a suitable position. Vises consist of a body and two gripping jaws and are designed as machine (metalworking) or bench units.
Machine vises are mounted on metal-cutting machine tools for use in milling, drilling, planing, and other machining operations. Bench vises are mounted on workbenches and are used in various kinds of fitting operations. Anvil vises, for example, are used in chopping, straightening, and other types of fabrication in which the workpiece is struck. The jaws of parallel vises, both swiveling and nonswiveling types, are not as strong as those of other types; such vises are used in more complex and precise operations that do not involve striking the workpiece. Hand vises hold small workpieces for drilling, filing, and similar operations in cases where holding the workpiece in the hand would be inconvenient or dangerous. Specialized vises are available for specific metal-working applications, for example, vises with jaws bent back for use in chamfering.
In most vises, a screw handle must be turned in order to bring the jaws together to grip the workpiece. Wedges, diaphragms, cams, and other mechanisms are also used. Pneumatic parallel vises use compressed air to move and tighten the adjustable jaws. The size of a vise is determined by the width and maximum separation of the jaws. In anvil vises, these dimensions range to 180 and 200 mm, respectively; in parallel vises, to 140 and 180 mm; and in hand vises, to 15–45 and 15–4) mm.
The Great Soviet Encyclopedia, 3rd Edition (1970-1979). © 2010 The Gale Group, Inc. All rights reserved.
vise
[

vīs

]

(design engineering)

A tool consisting of two jaws for holding a workpiece; opened and closed by a screw, lever, or cam mechanism.

McGraw-Hill Dictionary of Scientific & Technical Terms, 6E, Copyright © 2003 by The McGraw-Hill Companies, Inc.
vis, vice, vise
A spiral staircase generally of stone, whose steps wind around a central shaft or newel; a
screw stair
.
---
vise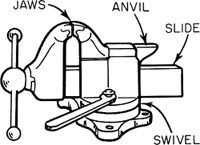 1. A gripping tool, fixed or portable, used to hold an object firmly while work is performed on it; has movable jaws, similar to a clamp, which are brought together by a screw or lever.
2. SeeVis.
McGraw-Hill Dictionary of Architecture and Construction. Copyright © 2003 by McGraw-Hill Companies, Inc.
vice
2 (US (often)), vise

an appliance for holding an object while work is done upon it, usually having a pair of jaws

Collins Discovery Encyclopedia, 1st edition © HarperCollins Publishers 2005