Wang Labs
Wang Labs
(Wang Laboratories, Inc., Lowell, MA) An earlier computer services and network integration company. Wang was one of the major contributors to the computing industry from its founder's invention that made core memory possible to leadership in desktop calculators and word processors. Founded in 1951 by Dr. An Wang and specializing in electronics, the company became world famous for its desktop calculators by the 1960s.

In the 1970s, Wang introduced its WPS word processor and VS minicomputers. It became North America's largest supplier of small business computers and the world's leader in word processors. Throughout the 1980s, Wang developed integrated voice and data networks as well as imaging systems.

In 1992, Wang declared bankruptcy and recovered 18 months later. Soon after, with a name change from Wang Labs to Wang Global, it acquired Groupe Bull's federal systems integration business, its European imaging installations and its maintenance operations in North America and Australia. In 1999, Wang Global was acquired by Dutch firm Getronics, a leading network consulting and integration provider.

Dr. Wang came from China in 1945 to study applied physics at Harvard. Six years later, he started Wang Labs. In 1988, two years before he died, he was inducted into the National Inventors Hall of Fame for his 1948 invention of a pulse transfer device that let magnetic cores be used for computer memory. The Hall of Fame has recognized an elite group including Edison, Pasteur and Bell. See core storage.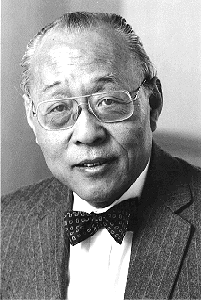 Dr. An Wang
Dr. Wang was a major force in the early days of computing. His contribution to the invention of core memory significantly advanced the computer industry in the 1950s. His business and word processing systems were used worldwide by the 1970s. (Image courtesy of Wang Laboratories, Inc.)
The Wang Calculator
In 1965, Wang's calculator was a major step forward, because it could generate a natural logarithm with only one keystroke. (Image courtesy of Wang Laboratories, Inc.)
Copyright © 1981-2019 by The Computer Language Company Inc. All Rights reserved. THIS DEFINITION IS FOR PERSONAL USE ONLY. All other reproduction is strictly prohibited without permission from the publisher.