Hazardous waste
(redirected from Waste, Hazardous)
Also found in:
Dictionary
,
Medical
,
Financial
.
Hazardous waste
Any solid, liquid, or gaseous waste materials that, if improperly managed or disposed of, may pose substantial hazards to human health and the environment. Every industrial country in the world has had problems with managing hazardous wastes. Improper disposal of these waste streams in the past has created a need for very expensive cleanup operations. Efforts are under way internationally to remedy old problems caused by hazardous waste and to prevent the occurrence of other problems in the future.
A waste is considered hazardous if it exhibits one or more of the following characteristics: ignitability, corrosivity, reactivity, and toxicity. Ignitable wastes can create fires under certain conditions; examples include liquids, such as solvents, that readily catch fire, and friction-sensitive substances. Corrosive wastes include those that are acidic and those that are capable of corroding metal (such as tanks, containers, drums, and barrels). Reactive wastes are unstable under normal conditions. They can create explosions, toxic fumes, gases, or vapors when mixed with water. Toxic wastes are harmful or fatal when ingested or absorbed. When they are disposed of on land, contaminated liquid may drain (leach) from the waste and pollute groundwater.
Hazardous wastes may arise as by-products of industrial processes. They may also be generated by households when commercial products are discarded. These include drain openers, oven cleaners, wood and metal cleaners and polishes, pharmaceuticals, oil and fuel additives, grease and rust solvents, herbicides and pesticides, and paint thinners.
The predominant waste streams generated by industries in the United States are corrosive wastes, spent acids, and alkaline materials used in the chemical, metal-finishing, and petroleum-refining industries. Many of these waste streams contain heavy metals, rendering them toxic. Solvent wastes are generated in large volumes both by manufacturing industries and by a wide range of equipment maintenance industries that generate spent cleaning and degreasing solutions. Reactive wastes come primarily from the chemical industries and the metal-finishing industries. The chemical and primary-metals industries are the major sources of hazardous wastes.
There is a growing acceptance throughout the world of the desirability of using waste management hierarchies for solutions to problems of hazardous waste. A typical sequence involves source reduction, recycling, treatment, and disposal. Source reduction comprises the reduction or elimination of hazardous waste at the source, usually within a process. Recycling is the use or reuse of hazardous waste as an effective substitute for a commercial product or as an ingredient or feedstock in an industrial process.
Treatment is any method, technique, or process that changes the physical, chemical, or biological character of any hazardous waste so as to neutralize such waste; to recover energy or material resources from the waste; or to render such waste nonhazardous, less hazardous, safer to manage, amenable for recovery, amenable for storage, or reduced in volume. Disposal is the discharge, deposit, injection, dumping, spilling, leaking, or placing of hazardous waste into or on any land or body of water so that the waste or any constituents may enter the air or be discharged into any waters, including groundwater.
There are various alternative waste treatment technologies, for example, physical treatment, chemical treatment, biological treatment, incineration, and solidification or stabilization treatment. These processes are used to recycle and reuse waste materials, reduce the volume and toxicity of a waste stream, or produce a final residual material that is suitable for disposal. The selection of the most effective technology depends upon the wastes being treated.
There are abandoned disposal sites in many countries where hazardous waste has been disposed of improperly in the past and where cleanup operations are needed to restore the sites to their original state. Cleaning up such sites involves isolating and containing contaminated material, removal and redeposit of contaminated sediments, and in-place and direct treatment of the hazardous wastes involved. As the state of the art for remedial technology improves, there is a clear preference for processes that result in the permanent destruction of contaminants rather than the removal and storage of the contaminating materials.
McGraw-Hill Concise Encyclopedia of Engineering. © 2002 by The McGraw-Hill Companies, Inc.
Hazardous waste
By-products of society with physical, chemical, or infectious characteristics that pose hazards to the environment and human health when improperly handled, specifically characterized by one or more of the following properties: ignitable, corrosive, reactive, or toxic.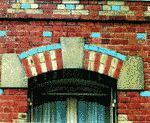 Illustrated Dictionary of Architecture Copyright © 2012, 2002, 1998 by The McGraw-Hill Companies, Inc. All rights reserved