Water Seal
Also found in:
Dictionary
,
Wikipedia
.
water seal
[

′wȯd·ər 'sēl

]

(engineering)

A seal formed by water to prevent the passage of gas.

McGraw-Hill Dictionary of Scientific & Technical Terms, 6E, Copyright © 2003 by The McGraw-Hill Companies, Inc.
The following article is from The Great Soviet Encyclopedia (1979). It might be outdated or ideologically biased.
Water Seal
a hydraulic device that prevents the reverse flow of gases in piping. It is used in sanitary engineering to prevent the entry of sewer gases into premises through sanitary equipment (sinks, toilet bowls, and so on). In gas welding, the water seal prevents penetration of the blast wave from the welding torch into the acetylene generator ("blow-back"). Water seals are sometimes used as a safety device in steam power installations and gas holders.
In gas welding, acetylene enters the water seal (see Figure 1) via a pipe (1) that is filled with water up to the level of the test cock (3) and, passing through the layer of water, exits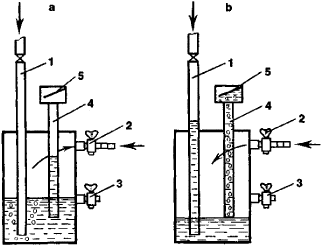 toward the torches via valve (2). When the gaseous mixture in the torch explodes, the gas enters the water seal via valve (2) and forces the water into pipe (1), forming a water lock. The water level in the water seal drops, uncovering the lower end of pipe (4), and the gas escapes through this pipe into the atmosphere, drawing after it the water in the water seal, which is retained by panel (5). The water lock in pipe (1) prevents the blast wave from entering the welding generator.
The Great Soviet Encyclopedia, 3rd Edition (1970-1979). © 2010 The Gale Group, Inc. All rights reserved.