water table
(redirected from Watertable)
Also found in:
Dictionary
,
Thesaurus
,
Medical
,
Financial
.
water table,
the top zone of soil and rock in which all voids are saturated with water. The level of the water table varies with topography and climate, and depends on the degree to which the groundwater lost due to environmental reasons or human use, is replenished.
Water table
A horizontal offset in a wall sloped on the top to throw off water running down the wall.
Water Table
the water surface of rivers, lakes, and other bodies of water or the surface of unpressured ground-water. In the latter case the upper boundary (surface) of groundwater in the water-bearing stratum is the water table. The groundwater table slopes in the direction of water movement and reflects the relief of the surface in subdued form. If the groundwater fills enclosed depressions in a water-resistant bed, its surface becomes horizontal. The outlines of the groundwater table in plan view are depicted on a map by means of water table contours.
water table
[

′wȯd·ər 'tā·bəl

]

(building construction)

A ledge or slight projection of the masonry or wood construction on the exterior of a foundation wall, or just above it, to protect the foundation by directing rainwater away from the wall. Also known as canting strip.

(hydrology)

The planar surface between the zone of saturation and the zone of aeration. Also known as free-water elevation; free-water surface; groundwater level; groundwater surface; groundwater table; level of saturation; phreatic surface; plane of saturation; saturated surface; water level; waterline.
water table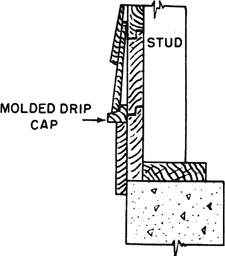 1.
A horizontal exterior ledge on a wall, pier, buttress, etc.; often sloped and provided with a drip molding to prevent water from running down the face of the lower portion; also called an
offset
, 1. Also see
base course, drip cap
.
water table
1. the surface of the water-saturated part of the ground, usually following approximately the contours of the overlying land surface
2. an offset or string course that has a moulding designed to throw rainwater clear of the wall below