blog
(redirected from Web-log)
Also found in:
Dictionary
,
Thesaurus
,
Financial
.
blog
blog, short for web log, an online, regularly updated journal or newsletter that is readily accessible to the general public by virtue of being posted on a website. Blogs typically report and comment on topics of interest to the author, and are usually written and posted using software specifically designed to facilitate blogging; they include hyperlinks to other websites and, often, photos, video clips, and the like. The most recent entry by the blogger is posted at the beginning of the blog, with earlier entries following in reverse chronological order; comments and other responses to the blog by readers are often posted after each entry.
Although some bloggers have (or have achieved) prominence and expertise that makes them as influential in politics and other areas as established journalists, reviewers, and critics (some of which maintain blogs themselves), many bloggers reach relatively few readers and discuss matters of largely personal interest. Blogs also have been used by politicians, businesses, and others to keep voters, customers, and the like informed on matters of common interest; they can function as a significant alternative to television, newspapers, and other mainstream media, especially in nations where the media are controlled or censored by the government. Bloggers have at times broken important news stories or marshalled public opinion on a matter of public interest.
Online journals first appeared in the early 1990s. The development in the late 1990s of software that made updating an online journal easier and the subsequent rise of websites that specialized in hosting blogs spurred the rapid growth of blogging in the first years of the 21st cent., and by the mid-2000s there were millions of blogs on the Internet. By the end of 2010, however, social networking services such as Facebook and microblogging services such as Twitter had superseded blogs in some areas.
The Columbia Electronic Encyclopedia™ Copyright © 2022, Columbia University Press. Licensed from Columbia University Press. All rights reserved.
blog
a journal written on-line and accessible to users of the internet
Collins Discovery Encyclopedia, 1st edition © HarperCollins Publishers 2005
blog
This article is provided by FOLDOC - Free Online Dictionary of Computing (foldoc.org)
blog
(1) To write and post an entry in a Weblog.

(2) (WeBLOG) A website that contains text entries in reverse chronological order (most recent entry first). Blogs cover everything from the latest news about a topic to personal journals to "ranting and raving." Written by one person or a group of contributors, entries contain commentary, observations and opinions and may include images, audio, video, links to other sites, as well as a search facility for finding past entries. As of 2020, there are more than 400 million blogs in existence, created by using services such as Wordpress, Tumblr and Blogger. See audioblog, vlog, Blogger, Tumblr and Wordpress.

Blogs may invite comments and feedback similar to the Internet newsgroup discussions that started long before the Web came about (see newsgroup). Blogs often support RSS syndication, which automatically notifies users when new blog entries are posted (see syndication feed).

More Personal, But Corporate Too
Informality and off-the-cuff opinion are what set blogs apart. The blog is often a passionate expression of one individual's thoughts, and blogs are expected to be truthful. Although ads were traditionally absent, they now appear regularly.

Companies encourage employees to write internal blogs to share knowledge, and they use public blogs to keep abreast of customer satisfaction and other issues. Customers often have great faith in employee bloggers. For example, a CEO who writes a blog may greatly enhance the company image as long as there is no hard sell.

The Blogosphere and Mainstream Media
Blogs and the major news networks often feed each other. What is published in one may be picked up in the other; however, blog commentary can become viral and spread very quickly. Depending on the situation, the "blogosphere" can be a more potent force than mainstream journalism.

Blog Software and Services
In the late 1990s, the first blogs were manually coded in HTML and uploaded to a Web server. However, when applications such as Pitas, Blogger and GrokSoup were launched in 1999, blogs took off. This template-based software made it a snap to publish a blog on the company's Web server and add entries without knowing any HTML (see blog publishing software). Soon after, blog hosting services came along that offered the same functionality on their own servers, allowing anyone to set up a free blog on the Web in minutes. A blog service is the simplest way for anyone to publish comments on the Internet (see blog service).

From Blog to Microblog to Twitter
The blog spawned the "microblog," a short blog about one's daily adventures, which evolved into the wildly successful Twitter.


The Blogosphere


After 9/11, blogs were used to convey information, thoughts and feelings faster than ever. On controversial issues, blogs can quickly reach people worldwide. The "blogosphere" (blog universe) has become such a forum for public expression that it is routinely searched for reactions and opinions. See blog network, live blogging, anonymous blog, blog ping, spider, splog, blogroll, blogvertising, blognosing, blogorrhea, blogger, War blog, cyberactivism and dooced.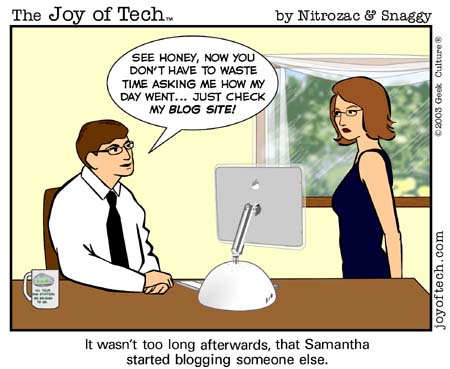 Geek Humor
From "The Best of The Joy of Tech" cartoon book by Nitrozac and Snaggy (O'Reilly & Associates, Inc., 2003). (Image courtesy of GeekCulture, www.geekculture.com)
Copyright © 1981-2019 by The Computer Language Company Inc. All Rights reserved. THIS DEFINITION IS FOR PERSONAL USE ONLY. All other reproduction is strictly prohibited without permission from the publisher.