box
(redirected from West Indian boxes)
Also found in:
Dictionary
,
Thesaurus
,
Medical
,
Legal
,
Financial
.
box
box,
common name for the Buxaceae, a family of trees and shrubs with leathery evergreen leaves, native to the tropics and subtropics of the Old World and to Central America. The boxes (genus
Buxus
) have been widely introduced to other regions for use as hedge plants and for their wood. Boxwood is close-grained, strong and hard, and polishes well; it is valued for wood engraving, carving, and turning, and for making musical instruments.
Pachysandra procumbens,
a native American species of an otherwise Asian genus, is a low, creeping herb found in the S Appalachians and cultivated elsewhere as a ground cover. The box family is classified in the division
Magnoliophyta
, class Magnoliopsida, order Euphorbiales.
The Columbia Electronic Encyclopedia™ Copyright © 2022, Columbia University Press. Licensed from Columbia University Press. All rights reserved.
What does it mean when you dream about a box?
Boxes have a complex range of meanings, so deciphering the meaning of a box that appears in a dream is often difficult. For Freud, boxes represented the womb or the vagina. Much depends on one's circumstances and on the particular disposition of the box in a dream. During a move, boxes in a dream might simply reflect the moving experience. Certain common metaphors, such as "feeling boxed in," can be expressed by boxes in dreams. Boxes may contain danger (as in "Pandora's box") or gifts (a "gift box").
The Dream Encyclopedia, Second Edition © 2009 Visible Ink Press®. All rights reserved.
box
[

bäks

]

(design engineering)

(engineering)

A protective covering or housing.

McGraw-Hill Dictionary of Scientific & Technical Terms, 6E, Copyright © 2003 by The McGraw-Hill Companies, Inc.
box
1. A private seating area for spectators in an auditorium, usually located at the front or side of a mezzanine or balcony; may contain movable, rather than fixed, chairs.
2. An enclosure for mounting an electric device and its associated circuit conductors or for splicing, pulling in, or terminating conductors.
McGraw-Hill Dictionary of Architecture and Construction. Copyright © 2003 by McGraw-Hill Companies, Inc.
box
1
1. a separate compartment in a public place for a small group of people, as in a theatre or certain restaurants
2. an enclosure within a courtroom
3. a compartment for a horse in a stable or a vehicle
4. Brit a small country house occupied by sportsmen when following a field sport, esp shooting
5.
a. a protective housing for machinery or mechanical parts
b. the contents of such a box
c. (in combination): a gearbox
6. the central part of a computer or the casing enclosing it
8. Baseball either of the designated areas for the batter or the pitcher
9. the raised seat on which the driver sits in a horse-drawn coach
---
box
2
1. a dense slow-growing evergreen tree or shrub of the genus Buxus, esp B. sempervirens, which has small shiny leaves and is used for hedges, borders, and garden mazes: family Buxaceae
2. the wood of this tree
3. any of several trees the timber or foliage of which resembles this tree, esp various species of Eucalyptus with rough bark
Collins Discovery Encyclopedia, 1st edition © HarperCollins Publishers 2005
box
(computer)

1. A computer; especially in the construction "foo box" where foo is some functional qualifier, like "graphics", or the name of an

operating system

(thus, "

Unix

box", "

MS-DOS

box", etc.) "We preprocess the data on Unix boxes before handing it up to the

mainframe

." The plural "

boxen

" is sometimes seen.

2. Without qualification in an

IBM SNA

site, "box" refers specifically to an

IBM front-end processor

.

This article is provided by FOLDOC - Free Online Dictionary of Computing (foldoc.org)
box
(1) An input area. See field.

(2) See set-top box.

(3) Slang for computer. The term typically refers to a personal computer in a desktop or tower case. For example, the phrase "that's a nice Windows box" simply means a "fully equipped or well-made computer running the Windows operating system."

(4) (Box) A cloud storage service from Box, Los Altos, CA (www.box.com) that is used to share files between desktop computers and mobile devices. Introduced in 2005, the service comes in free and paid versions. The OpenBox programming interface (API) enables applications to work with files stored in the Box cloud, and apps from Box and third parties are available. For example, Box Edit lets users modify content directly from the native applications stored in their computers, such as Excel and Photoshop.

Sophisticated Collaboration and Notifications
Box excels in helping account administrators manage the service. For example, when Box admins send invitations to a user to review files in the cloud, they are notified when the user has downloaded them. See cloud storage.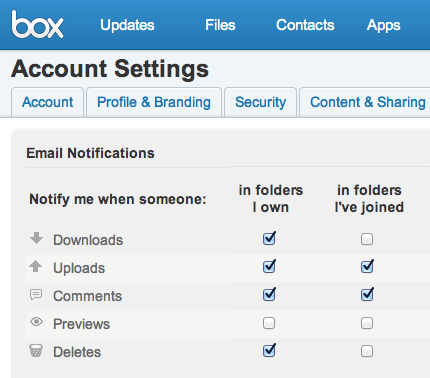 Box Options
Box provides numerous options including notifying users that recipients downloaded the files offered to them.
Copyright © 1981-2019 by The Computer Language Company Inc. All Rights reserved. THIS DEFINITION IS FOR PERSONAL USE ONLY. All other reproduction is strictly prohibited without permission from the publisher.
Box
(dreams)

A box is believed to be a feminine symbol that represents the unconscious, the mysterious, and the maternal. The famous Pandora's box held all the forces of good and evil in it. Pandora opened the box and unleashed its wrath into the world. She was able to close the box and in it hope. Thus, it is said that hope remains. (Pandora's box was not really a box at all, but a jar!) The interpretation of the box in your dream depends on the details of the dream and on the content of the box. Just remember that the box is symbolic of mystery, secrecy, and of something precious. The box in your dream might represent potential that needs to be realized and that will slowly come to your conscious awareness. Dreaming of a box suggests that risk taking may be necessary and that you may discover power and wealth that currently may be in the unconscious.

Bedside Dream Dictionary by Silvana Amar Copyright © 2007 by Skyhorse Publishing, Inc.