clutch
(redirected from Wet clutch)
Also found in:
Dictionary
,
Thesaurus
,
Medical
.
clutch,
in automobiles: see transmissiontransmission,
in automobiles, system of parts connecting the engine to the wheels. Suitable torque, or turning force, is generated by the engine only within a narrow range of engine speeds, i.e., rates at which the crankshaft is turning.
.....

Click the link for more information.

.

The Columbia Electronic Encyclopedia™ Copyright © 2013, Columbia University Press. Licensed from Columbia University Press. All rights reserved.

www.cc.columbia.edu/cu/cup/
The following article is from The Great Soviet Encyclopedia (1979). It might be outdated or ideologically biased.
Clutch
in motor vehicles, a mechanism for transmitting torque from an internal-combustion engine to the vehicle's transmission. The clutch also makes it possible to disconnect the engine's crankshaft from the vehicle's drive shaft for short periods, to shift gears smoothly, and to accelerate the vehicle smoothly from rest.
Clutches are designated as single-plate, twin-plate, or multi-plate types, depending on the number of driven disks. Automotive clutches are usually single-plate or twin-plate types in which the disks are pressed together by springs. In order to facilitate smooth engagement of the clutch and to reduce torsional vibrations in the transmission, flat springs are often mounted between the friction linings of the disks, and the disks are attached to hubs by means of elastic couplings with coal springs. The clutch is disengaged by a pedal to which it is mechanically or hydraulically connected; in heavy-duty vehicles, a servomechanism is used. Disengagement when gears are shifted may be automatic.
Other types of clutches include multiplate clutches running in oil (in motorcycles), clutches that are normally disengaged during operations (in tractors), hydraulic and hydromechanical couplings combined with claw clutches (in motor vehicles), and combination electromagnetic-ferromagnetic couplings (usually in motor vehicles to be used by the handicapped).
REFERENCES
Heldt, P. M. Avtomobil'nye stsepleniia i korobki peredach. Moscow, 1960. (Translated from English.)
Borisov, S. G., and I. M. Eglit. Mufty stsepleniia traktorov. Moscow, 1972.

N. IA. NIBERG and I. M. EGLIT
The Great Soviet Encyclopedia, 3rd Edition (1970-1979). © 2010 The Gale Group, Inc. All rights reserved.
clutch
[

kləch

]

(mechanical engineering)

A machine element for the connection and disconnection of shafts in equipment drives, especially while running.

(vertebrate zoology)

A nest of eggs or a brood of chicks.

McGraw-Hill Dictionary of Scientific & Technical Terms, 6E, Copyright © 2003 by The McGraw-Hill Companies, Inc.
Clutch
A machine element for the connection and disconnection of shafts in equipment drives. If both shafts to be connected can be stopped or made to move relatively slowly, a positive-type mechanical clutch may be used. If an initially stationary shaft is to be driven by a moving shaft, friction surfaces must be interposed to absorb the relative slippage until the speeds are the same. Likewise, friction slippage allows one shaft to stop after the clutch is released.
When positive connection of one shaft with another in a given position is needed, a positive clutch is used. This clutch is the simplest of all shaft connectors, sliding on a keyed shaft section or a splined portion and operating with a shift lever on a collar element. Because it does not slip, no heat is generated in this clutch. Interference of the interlocking portions prevents engagement at high speeds; at low speeds, if connection occurs, shock loads are transmitted to the shafting. Positive clutches may be of the square jaw type (Fig. 1) with two or more jaws of square section meshing together in the opposing clutches, or the spiral jaw type, a modification of the square-jaw clutch that permits more convenient engagement and provides a more gradual movement of the mating faces toward each other.
When the axial pressure of the clutch faces on each other serves to transmit torque instead of the mating shape of their parts, the clutch operates by friction. This friction clutch is usually placed between an engine and a load to be driven; when the friction surfaces of the clutch are engaged, the speed of the driven load gradually approaches that of the engine until the two speeds are the same. A friction clutch is necessary for connecting a rotating shaft of a machine to a stationary shaft so that it may be brought up to speed without shock and transmit torque for the development of useful work. The three common designs for friction clutches, combining axial and radial types, are cone clutches (Fig. 2), disk clutches, and rim clutches. In a cone clutch, the surfaces are sections of a pair of cones. The disk clutch consists essentially of one or more friction disks connected to a driven shaft by splines. A rim clutch has surface elements that apply pressure to the rim externally or internally.
In the overrunning type of clutch, the driven shaft can run faster than the driving shaft. This action permits freewheeling as the driving shaft slows down or another source of power is applied. Effectively this is a friction pawl-and-ratchet drive, wherein balls or rollers become wedged between the sleeve and recessed pockets machined in the hub (Fig. 3). The clutch does not slip when the second shaft is driven, and is released automatically when the second shaft runs faster than the driver. The centrifugal clutch employs centrifugal force from the speed of rotation. This type of clutch is not normally used because it becomes unwieldy and unsafe with increasing size. Clutch action is also produced by hydraulic couplings, with a smoothness not possible with a mechanical clutch. Automatic transmissions in automobiles represent a fundamental use of hydraulic clutches. See Torque converter
Magnetic coupling between conductors provides a basis for several types of clutches. The magnetic attraction between a current-carrying coil and a ferromagnetic clutch plate serves to actuate a disk-type clutch. Slippage in such a clutch produces heat that must be dissipated and wear that reduces the life of the clutch plate. Thus the electromagnetically controlled disk clutch is used to engage a load to its driving source. See Brake
McGraw-Hill Concise Encyclopedia of Engineering. © 2002 by The McGraw-Hill Companies, Inc.
clutch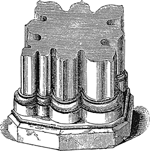 A device which permits the drive train of a machine to be connected to, or disconnected from, a prime source of power; usually operates on a mechanical principle with friction surfaces that can be joined or separated, but other types include a fluid coupler.
McGraw-Hill Dictionary of Architecture and Construction. Copyright © 2003 by McGraw-Hill Companies, Inc.
clutch
1
a device that enables two revolving shafts to be joined or disconnected as required, esp one that transmits the drive from the engine to the gearbox in a vehicle
---
clutch
2
a hatch of eggs laid by a particular bird or laid in a single nest
Collins Discovery Encyclopedia, 1st edition © HarperCollins Publishers 2005