wet-bulb temperature
Also found in:
Wikipedia
.
wet-bulb temperature
[

′wet ¦bəlb ′tem·prə·chər

]

(meteorology)

Isobaric wet-bulb temperature, that is, the temperature an air parcel would have if cooled adiabatically to saturation at constant pressure by evaporation of water into it, all latent heat being supplied by the parcel.

The temperature read from the wet-bulb thermometer; for practical purposes, the temperature so obtained is identified with the isobaric wet-bulb temperature.
wet-bulb temperature
The temperature of a thermometer in which the bulb is enclosed in a wick that is kept moistened.
wet-bulb temperature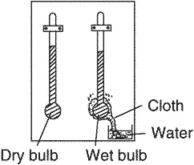 The lowest temperature at which air may be cooled by the evaporation of water at a constant pressure. It is measured with a wet-bulb thermometer.