White, Stanford
White, Stanford
White, Stanford,
1853–1906, American architect, b. New York City; son of Richard Grant White. In 1872 he entered the office of Gambrill and Richardson in Boston, at the time when H. H.
Richardson
was at the peak of his fame. There White worked upon the design for Trinity Church, Boston. After studying in Europe, he entered (1879) into partnership with C. F.
McKim
and W. R.
Mead
, a firm that was to affect the course of American architecture over a long period. White had a passionate love of beauty; his special talents were for the decorative elements of a building and for its interior design and furnishing. He also possessed a wide knowledge of antiques. Among the buildings executed by the firm, those that are commonly ascribed as his individual accomplishments include the second Madison Square Garden, Madison Square Presbyterian Church, the New York Herald Building, Washington Arch, and the Century Club, all in New York City; only the last two still stand. These buildings illustrated his characteristic concentration upon rich and graceful effects and especially upon beautifully sculptured Renaissance ornament. White was shot and killed in Madison Square Roof Garden by Harry K. Thaw because of his love affair with Thaw's wife, Evelyn Nesbit Thaw. After his death the firm continued to design buildings in his style that later were erroneously attributed to White himself, e.g., the Harvard Club, New York City.
Bibliography
See biography by C. C. Baldwin (1931, repr. 1971); P. Baker, Stanny (1990); M. Broderick, Triumvirate: McKim, Mead &White (2011).
The Columbia Electronic Encyclopedia™ Copyright © 2022, Columbia University Press. Licensed from Columbia University Press. All rights reserved.
White, Stanford
(1853–1906)

Partner in the firm of McKim Mead and White. The buildings produced by the firm were the most appreciated of their time. He designed the Washington Square Arch in New York City, as well as houses for Louis Comfort Tiffany, Charles Dana Gibson, and Joseph Pulitzer.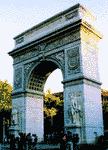 Illustrated Dictionary of Architecture Copyright © 2012, 2002, 1998 by The McGraw-Hill Companies, Inc. All rights reserved
White, Stanford
(1853–1906) architect; born in New York (son of Richard Grant White). A self-taught artist, he apprenticed with H. H. Richardson. During his partnership in McKim, Mead and White (1879–1906), the firm became the largest architectural office in the world. White was a prolific designer of furniture, interiors, jewelry, and even magazine covers; his graceful decorations complemented McKim's classical forms. He designed the first Madison Square Garden, Washington Arch, and the Metropolitan Club (all in New York City). A bon vivant, his relationship with Evelyn Nesbit (beginning when she was fourteen years old), who subsequently married Harry K. Thaw, fueled Thaw's jealousy of White's eminence and panache, and Thaw shot Stanford White to death on the rooftop of Madison Square Garden in June 1906.