Plethysmography
(redirected from Whole body plethysmography)
Also found in:
Dictionary
,
Medical
.
The following article is from The Great Soviet Encyclopedia (1979). It might be outdated or ideologically biased.
Plethysmography
in medicine and physiology, a method of continuous graphic recording of variations in the volume of a human or animal organ as modified by the circulation of blood. Plethysmography is used to study cardiovascular function and changes in the distribution of blood caused by physical and mental work, fatigue, and emotional responses; it is also used to determine the effects of heat, cold, and tactile and other stimuli and of hypotensive and hypertensive agents. Plethysmography is used in clinical analysis to evaluate vascular tonus and elasticity, pulse volume, and central nervous system function and to investigate corticovisceral functioning by registering the reaction of blood vessels to stimuli.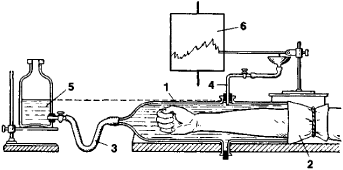 The main part of a very simple plethysmograph (Figure 1) is a container of suitable size and shape in which the part, for example, hand, leg, or finger, is placed. In animal experiments a kidney, heart, or spleen may be studied. The container is filled with water and hermetically sealed. (In Figure 1 a rubber cuff is used.) Changes in the water level in the container reflect fluctuations in blood volume in the organ or part and are recorded in the form of a curve called a plethysmogram. The plethysmogram shows small fluctuations in blood pressure corresponding to pulse and somewhat larger ones corresponding to respiration; large variations reflect vascular reactions to various stimuli. More advanced methods of plethysmography include (1) photoplethysmography, in which light is directed through an organ, such as an ear or finger, onto a photoelectric cell, or light is reflected from the organ, (2) rheoplethysmography, and (3) dielectrography, or rheocardiography. The last two methods are based on the direct recording of fluctuations in the electrical properties of an organ, which reflect the dynamics of the organ's blood supply.
The Great Soviet Encyclopedia, 3rd Edition (1970-1979). © 2010 The Gale Group, Inc. All rights reserved.