Win Keyboard commands
Win Keyboard commands
Although Windows was designed to be used with a mouse, you can also navigate and command the computer from the keyboard. Following are most of the keyboard options.


Keyboarding the Menus


All menus are selectable by pressing the Alt key and the "underlined" letter of the menu title. For example, Alt-F for File menu is universal.

Menu options are also selectable by pressing the underlined letter in their name. Most of the time, it is the first letter. However, if two options start with the same letter, one will use a letter in the middle of the name.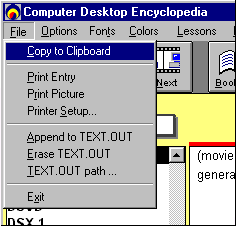 A Windows Menu
The Encyclopedia File menu is accessed by pressing Alt-F. Each option in the menu is selected by pressing the underlined key. Note the underlines for the two Print options: P for Print Entry and R for Print Picture. Pressing Escape closes the menu.
START/STOP APPLICATION
 Display Start menu: CTRL-ESC
 Launch app from highlighted icon: Press ENTER
 Close app: ALT-F4 or ALT-SPACEBAR/C.


 SWITCH, MOVE AND RESIZE WINDOWS
 Go to all windows: ALT-TAB-TAB...
 Go between last two: ALT-TAB
 Go to next tab in a dialog box: CTRL-TAB
 Move:   ALT-SPACEBAR; M; Arrow keys; Enter
 Resize: ALT-SPACEBAR; S; Arrow keys; Enter


 MINIMIZE/MAXIMIZE WINDOWS
 Minimize: ALT-SPACEBAR/N
 Maximize: ALT-SPACEBAR/X


 CLIPBOARD
 Highlight selection (SHIFT down & move cursor)
   Copy selection to clipboard: CTRL-C
   Cut selection to clipboard: CTRL-X
   Paste from clipboard: CTRL-V


 UNDO LAST OPERATION
 CTRL-Z


 SWITCH BETWEEN DOS WINDOW AND FULL SCREEN
 ALT-ENTER

Copyright © 1981-2019 by The Computer Language Company Inc. All Rights reserved. THIS DEFINITION IS FOR PERSONAL USE ONLY. All other reproduction is strictly prohibited without permission from the publisher.