Windows Phone
(redirected from Win Phone)
Windows Phone
Microsoft's second smartphone platform. Superseding Windows Mobile, Windows Phone was introduced in 2010. Although Windows smartphones were innovative and much loved, they faced huge competition with iPhones and Androids. In addition, BlackBerrys had also been around for more than a decade. Even with Microsoft's clout, another smartphone platform was obviously too much for the user community. In 2017, Microsoft announced end of life for Windows Phone (by then renamed Windows 10 Mobile) with security fixes pledged until the end of 2019.

A Great Interface
Using the touch interface first deployed on Microsoft's Zune music player, Windows Phone (WinPhone) was a vast departure from its earlier Windows Mobile platform. The "live tile" interface displays useful information on the home screen in real time. Nokia was so fond of the interface that it switched from its own extremely popular Symbian OS to Windows Phone (see Lumia). In 2013, Microsoft acquired Nokia's mobile phone division but sold it in 2017. See Windows Phone Store, live tiles, Windows Mobile and Symbian.

Integration of Office and Windows
A feature of Windows Phone is the built-in Windows support (Office documents can be edited), and messages from Facebook and Windows Live mail can be instantly viewed. In order to synchronize music, videos and photos, as well as update the OS, WinPhone requires Zune software in the PC and connector software in the Mac (see Windows Phone Connector for Mac).

Windows 10 Mobile
Along with the introduction of Windows 10 in 2015, Windows Phone was renamed Windows 10 Mobile and featured more integration between desktop and mobile devices. See Cortana, Zune, Windows Phone Store, Windows Mobile, mobile compatibility and mobile device vendor control.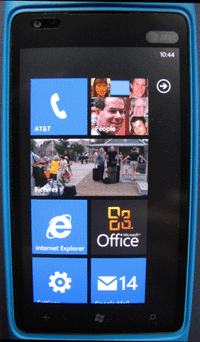 Windows Phone 7
Branded in conjunction with then-current Windows 7, WinPhone 7 introduced "live tiles," which are on-screen icons updated in real time. In 2011, Version 7.5 added app switching and enhanced Office, Bing and social network integration. These first versions ran under Windows CE, Microsoft's first mobile platform.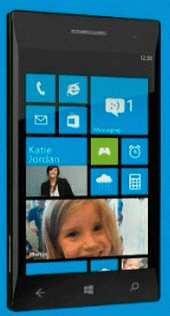 Windows Phone 8
In 2012, Microsoft switched to the Windows Phone OS with WinPhone 8. It expanded the start screen and let users change the tile size. In 2014, Version 8.1 added a notification center and other features. See Windows Phone 8. (Image courtesy of Microsoft Corporation).