Windows Phone
(redirected from WinPhone)
Windows Phone
A smartphone operating system from Microsoft, introduced in 2010. Starting in 2015, Windows Phone was renamed Windows 10 Mobile. However, as of 2018, there is no future development of smartphones expected from Microsoft.

Using the touch interface first deployed on Microsoft's Zune music player, Windows Phone (WinPhone) was a vast departure from the earlier Windows Mobile platform. Both Windows Mobile and the first versions of Windows Phone were based on the Windows CE operating system, but that changed in 2012 (see Windows Phone 8 image below).

Although Windows Phone arrived several years after the iPhone and Android platforms, most major apps and tens of thousands more are available for the platform. See Windows Phone Store.

Windows Phone has been widely praised, many claiming it is friendlier than Android and is as approachable as iPhone. The "live tile" interface enables useful information to be immediately available. Nokia switched from its own Symbian OS to Windows Phone, and the first Nokia WinPhone was the Lumia in late 2011. In September 2013, Microsoft acquired Nokia's mobile phone division and its 32,000 employees. See live tiles, Windows Mobile and Symbian.

Integration of Office and Windows
A feature of Windows Phone is the built-in Windows support (Office documents can be edited), and messages from Facebook and Windows Live mail can be instantly viewed. In order to synchronize music, videos and photos, as well as update the OS, WinPhone requires Zune software in the PC and connector software in the Mac (see Windows Phone Connector for Mac).

Windows Phone 7
Windows Phone 7 was the first release of WinPhone, branding it the same as the Windows 7 desktop. In 2011, Version 7.5 added app switching and refined Office, Bing and social network integration. A 2012 update included improved multitasking and text messaging.

Windows Phone 8
Introduced in late 2012, Windows Phone 8 replaced the Windows CE operating system with a phone version of Windows 8 (see Windows Phone 8). In 2014, Version 8.1 was released, which added a notification center and other features.

Windows 10 Mobile
In 2015, Microsoft renamed Windows Phone to Windows 10 Mobile, again branding it the same as the current desktop OS. See Cortana, Zune, Windows Phone Store, Windows Mobile, mobile compatibility and mobile device vendor control.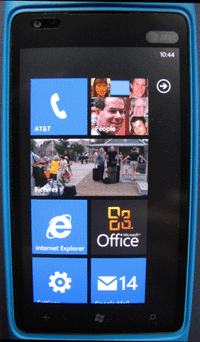 Windows Phone 7.5
Every WinPhone icon can be a "live tile" that updates information in real time as in this Nokia Lumia 900. Functioning like widgets, live tiles can function like widgets and display short reminders without having to go to the app first (see widget).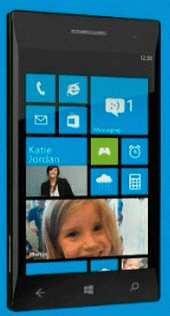 Windows Phone 8
WinPhone 8 expands the start screen and lets the user change the size of the tiles. A Windows 7.8 update for earlier Lumia phones also adds this tile flexibility. See Windows Phone 8. (Image courtesy of Microsoft Corporation).