Winchester disk
Also found in:
Dictionary
,
Thesaurus
,
Wikipedia
.
Winchester disk
[

′win·ches·tər 'disk

]

(computer science)

A type of disk storage device characterized by nonremovable or sealed disk packs; extremely narrow tracks; a lubricated surface that allows the head to rest on the surface during start and stop operations; and servomechanisms which utilize a magnetic pattern, recorded on the medium itself, to position the head.
Winchester disk
An early removable disk drive from IBM that put the heads and platters (disks) in a sealed unit for greater speed. Before the Winchester architecture, removable disks were like removable disks today, in which the read/write heads remain in the drive and make contact with the platter after the cartridge is inserted.

Introduced in 1973 as the model 3340, the drive had one permanent and one removable spindle, each holding 30MB. The "30-30" storage capacities led to the Winchester nickname after the Winchester 30-30 rifle. The term later referred to all fixed hard disks because the heads and platters are always encased in the same, sealed unit. See also Winchester.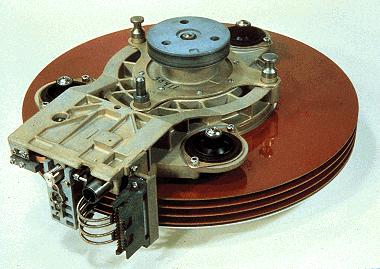 The Winchester Disk
IBM's Winchester disk was a removable cartridge, but the heads and platters were built in a sealed unit and were not separable. (Image courtesy of IBM.)