Kinect
(redirected from Xbox Kinect)
Kinect
The controller-free interface for the Xbox 360. Introduced in 2010, the Kinect option opened a new kind of interaction with the Xbox. It uses a sensor for motion, face and speech recognition that connects to the Xbox. Players interact by speaking and using hand and body motions. Like Nintendo's popular Wii, people can use their body to interact with the game.

Although Kinect set a world record for the fastest-selling consumer electronics device in its first 60 days (eight million units), manufacturing ceased in late 2017. However, the Kinect motion sensing technology was later used in Microsoft's mixed reality platform (see Windows Mixed Reality).

Video Calling
Video Kinect lets people start up a video call to Windows Live and other Xbox users. Photo sharing and collaborative apps enhance the call.

Kinect for Windows
After its debut, hackers began experimenting with Kinect for non-gaming purposes. Recognizing the enthusiasm, Microsoft introduced the Kinect software development kit for Windows in 2011. It let developers create apps with Kinect's skeletal tracking and speech recognition features. See Xbox.

Kinect for the iPhone
In 2013, Apple acquired PrimeSense, the Israeli startup that developed the 3D sensor in Kinect. As a result, the depth sensing technology in the Kinect made its way to the iPhone X in 2017.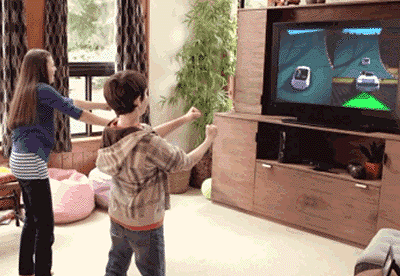 Just Steer
With Kinect, players use their hands and body to interact with the game. There are no wired or wireless, handheld controllers. Sensors under the monitor detect the motion. (Image courtesy of Microsoft Corporation.)
Copyright © 1981-2019 by The Computer Language Company Inc. All Rights reserved. THIS DEFINITION IS FOR PERSONAL USE ONLY. All other reproduction is strictly prohibited without permission from the publisher.