connector
(redirected from Y-connector)
Also found in:
Dictionary
,
Thesaurus
,
Medical
.
connector
[

kə′nek·tər

]

(computer science)

In database management, a pointer or link between two data structures.

(electronics)

A switch, or relay group system, which finds the telephone line being called as a result of digits being dialed; it also causes interrupted ringing voltage to be placed on the called line or of returning a busy tone to the calling party if the line is busy.

(engineering)

A detachable device for connecting electrical conductors.

A metal part for joining timbers.

A symbol on a flowchart indicating that the flow jumps to a different location on the chart.
connector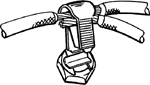 1. In an electric circuit, a device for joining two or more conductors, by a low-resistance path, without the use of a permanent splice.
2. A mechanical device for fastening
connector
(1) Any plug and socket that links two devices together. Although taken for granted and rarely in the limelight, connectors are a huge industry, and the quality of these components is more critical than most people would imagine. When not designed or constructed properly, they often become the weakest element in an electronic system. See CLINKS.

(2) In database management, a link or pointer between two data structures.

(3) In flowcharting, a symbol used to break a sequence and resume the sequence elsewhere. It is often a small circle with a number in it.