Zaitsev Reaction
The following article is from The Great Soviet Encyclopedia (1979). It might be outdated or ideologically biased.
Zaitsev Reaction
a method of preparing tertiary alcohols from ketones using organozinc compounds: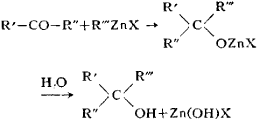 where R′, R″, and R‴ are hydrocarbon radicals and X is a halogen. The Zaitsev reaction is a special case of a general method of synthesizing alcohols from compounds containing a carbonyl group developed by A. M. Butlerov and his stu-dents. Subsequently organomagnesium compounds came to be used in these syntheses, being more convenient to handle. A. M. Zaitsev discovered the reaction in 1885.
The Great Soviet Encyclopedia, 3rd Edition (1970-1979). © 2010 The Gale Group, Inc. All rights reserved.