run
(redirected from a run for (one's) money)
Also found in:
Dictionary
,
Thesaurus
,
Medical
,
Legal
,
Financial
,
Idioms
.
run
1. an act, instance, or period of travelling in a vehicle, esp for pleasure
2.
a. a period of time during which a machine, computer, etc., operates
b. the amount of work performed in such a period
3. a continuous sequence of performances
4. Cards a sequence of winning cards in one suit, usually more than five
5. US a small stream
6. a steeply inclined pathway or course, esp a snow-covered one used for skiing and bobsleigh racing
7. a track or area frequented by animals
8. a group of animals of the same species moving together
9. the migration of fish upstream in order to spawn
10.
Nautical
a. the tack of a sailing vessel in which the wind comes from astern
b. part of the hull of a vessel near the stern where it curves upwards and inwards
11. the movement of an aircraft along the ground during takeoff or landing
12. Music a rapid scalelike passage of notes
13. Cricket a score of one, normally achieved by both batsmen running from one end of the wicket to the other after one of them has hit the ball
14. Baseball an instance of a batter touching all four bases safely, thereby scoring
15. Golf the distance that a ball rolls after hitting the ground
16. the runs Slang diarrhoea
Collins Discovery Encyclopedia, 1st edition © HarperCollins Publishers 2005
Run
Stonework having irregularly shaped units and no indication of systematic coursework; also the horizontal distance covered by a flight of stairs.
Illustrated Dictionary of Architecture Copyright © 2012, 2002, 1998 by The McGraw-Hill Companies, Inc. All rights reserved
run
[

rən

]

(building construction)

The horizontal distance from the face of a wall to the ridge of the roof.

The width of a single tread in a stairway.

The horizontal distance traversed by a flight of steps.

The runway or track for a window.

(computer science)

A single, complete execution of a computer program, or one continuous segment of computer processing, used to complete one or more tasks for a single customer or application. Also known as machine run.

(chemical engineering)

The amount of feedstock processed by a petroleum refinery unit during a given time; often used colloquially in relation to the type of stock being processed, as in crude run or naphtha run.

A processing-cycle or batch-treatment operation.

(engineering)

A portion of pipe or fitting lying in a straight line in the same direction of flow as the pipe to which it is connected.

(geology)

A ribbonlike, flat-lying, irregular orebody following the stratification of the host rock.

A branching or fingerlike extension of the feeder of an igneous intrusion.

(mining engineering)

(navigation)

The distance traveled by a craft during any given time interval, or since leaving a designated place.

(naval architecture)

The underwater portion of that part of the aft end of a ship where it curves inward and upward to the stern.

(ordnance)

Steady, level flight of an aircraft across a target to enable bombs to be dropped accurately in horizontal bombing.

Passing of a moving target once across the range.

(statistics)

The occurrence of the same characteristic in a series of observations; can be used to test whether or not two random samples come from populations having the same frequency distribution.

McGraw-Hill Dictionary of Scientific & Technical Terms, 6E, Copyright © 2003 by The McGraw-Hill Companies, Inc.
run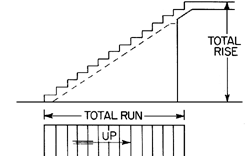 1. In roofing, the horizontal distance from the face of a wall to the ridge of the roof.
2. In stairways, the width of a single stair tread.
3. The horizontal distance covered by a flight of steps.
4. The runway or track for a sash.
5. A small stream of paint flowing vertically on a
McGraw-Hill Dictionary of Architecture and Construction. Copyright © 2003 by McGraw-Hill Companies, Inc.
run
i. That part of a flight of a photographic reconnaissance aircraft during which photographs are taken.
ii. That part of a flight of a combat aircraft during which bombs and other armaments are delivered.
An Illustrated Dictionary of Aviation Copyright © 2005 by The McGraw-Hill Companies, Inc. All rights reserved
run
This article is provided by FOLDOC - Free Online Dictionary of Computing (foldoc.org)
run
(1) To execute a program. The phrases "run the program" and "launch the program" are synonymous.

(2) A single program or set of programs scheduled for execution.

(3) In Windows, a command in the Start menu that lets you run a program directly. See Win Run command.

Copyright © 1981-2019 by The Computer Language Company Inc. All Rights reserved. THIS DEFINITION IS FOR PERSONAL USE ONLY. All other reproduction is strictly prohibited without permission from the publisher.