slip
(redirected from a slip of an)
Also found in:
Dictionary
,
Thesaurus
,
Medical
.
slip
1
1. US and Canadian a narrow space between two piers in which vessels may dock
3. a kind of dog lead that allows for the quick release of the dog
4. a small block of hard steel of known thickness used for measurement, usually forming one of a set
5. Engineering the ratio between output speed and input speed of a transmission device when subtracted from unity, esp of a drive belt or clutch that is not transmitting full power
6.
Cricket
a. the position of the fielder who stands a little way behind and to the offside of the wicketkeeper
b. the fielder himself
7. the relative movement of rocks along a fault plane
8. a landslide, esp one blocking a road or railway line
9. Metallurgy crystallog the deformation of a metallic crystal caused when one part glides over another part along a plane
10. the deviation of a propeller from its helical path through a fluid, expressed as the difference between its actual forward motion and its theoretical forward motion in one revolution
---
slip
2
1. a part of a plant that, when detached from the parent, will grow into a new plant; cutting; scion
2. Dialect a young pig
3. Chiefly US a pew or similar long narrow seat
4. a small piece of abrasive material of tapering section used in honing
---
slip
clay mixed with water to a creamy consistency, used for decorating or patching a ceramic piece
Collins Discovery Encyclopedia, 1st edition © HarperCollins Publishers 2005
The following article is from The Great Soviet Encyclopedia (1979). It might be outdated or ideologically biased.
Slip
in an asynchronous electric machine, a dimensionless quantity equal to the difference between the rate of rotation of a magnetic field n1 and the rate of rotation of the machine's rotor n2 referred to n1: S = (n1 - n2)/n1. Slip is a fundamental parameter of an asynchronous electric machine; it describes the machine's operating condition and loading.
---
Slip
a structure used to hoist ships onto shore for inspection or repair or in putting ships in dry dock. A slip consists of an inclined platform with rail tracks leading into the water. The ship is mounted on carriages that move on the rail tracks. After the ship has been raised onto shore, it is transferred to a horizontal work platform. Slips are constructed on the shores of navigable rivers and in marine ports. [23–1675–]
---
Slip
a thick, paste-like mass composed of a mixture of finely ground silicate raw materials and water. It is used in the manufacture of shaped refractory blocks, porcelain and faïence wares, ceramic tiles, and the like.
The Great Soviet Encyclopedia, 3rd Edition (1970-1979). © 2010 The Gale Group, Inc. All rights reserved.
What does it mean when you dream about slipping?
Stumbling or slipping in a dream may signify that the dreamer is forcing himself or herself to do things incompatible with the dreamer's nature or destiny.
The Dream Encyclopedia, Second Edition © 2009 Visible Ink Press®. All rights reserved.
slip
[

slip

]

(civil engineering)

A narrow body of water between two piers.

(crystallography)

The movement of one atomic plane over another in a crystal; it is one of the ways that plastic deformation occurs in a solid. Also known as glide.

(electricity)

The difference between synchronous and operating speeds of an induction machine. Also known as slip speed.

Method of interconnecting multiple wiring between switching units by which trunk number 1 becomes the first choice for the first switch, trunk number 2 first choice for the second switch, trunk number 3 first choice for the third switch, and so on.

(electronics)

Distortion produced in the recorded facsimile image which is similar to that produced by skew but is caused by slippage in the mechanical drive system.

(fluid mechanics)

The difference between the velocity of a solid surface and the mean velocity of a fluid at a point just outside the surface.

(geology)

The actual relative displacement along a fault plane of two points which were formerly adjacent on either side of the fault. Also known as actual relative movement; total displacement.

(materials)

A suspension of fine clay in water with a creamy consistency, used in the casting process and in decorating ceramic ware. Also known as slurry.

(naval architecture)

To part from an anchor by releasing the shackles from the anchor chain.

The reduction in the distance a propeller advances, per unit time, due to yielding of the fluid.

McGraw-Hill Dictionary of Scientific & Technical Terms, 6E, Copyright © 2003 by The McGraw-Hill Companies, Inc.
Slip (electricity)
A numerical value used in describing the performance of electrical couplings and induction machines. In an electrical coupling, slip is defined simply as the difference between the speeds of the two rotating members. In an induction motor, slip is a measure of the difference between synchronous speed and shaft speed.
When the stator windings of an induction motor are connected to a suitable alternating voltage supply, they set up a rotating magnetic field within the motor. The speed of rotation of this field is called synchronous speed, and is given by Eq. (1) or
(1)

(2)

Eq. (2), where f is the line frequency and p is the number of magnetic poles of the field. The number of poles is determined by the design of the windings. In accord with Faraday's voltage law, a magnetic field can induce voltage in a coil only when the flux linking the coil varies with time. If the rotor were to turn at the same speed as the stator field, the flux linkage with the rotor would be constant. No voltages would be induced in the rotor windings, no rotor current would flow, and no torque would be developed. For motor action it is necessary that the rotor windings move backward relative to the magnetic field so that Faraday's law voltages may be induced in them. That is, there must be slip between the rotor and the field. See Electromagnetic induction, Induction motor

The amount of slip may be expressed as the difference between the field and rotor speeds in revolutions per minute or radians per second. However, the slip of an induction motor is most commonly defined as a decimal fraction of synchronous speed, as in Eq. (3) or Eq. (4).

(3)

(4)

Here n is the motor speed in revolutions per minute, &ohgr; is its speed in radians per second, and s is the slip, or more properly the per unit slip. Typical full-load values of slip for an induction motor range from 0.02 to 0.15, depending on rotor design. Slip is sometimes expressed in percent of synchronous speed, rather than per unit. If an induction machine is driven faster than synchronous speed, the slip becomes negative, and the machine acts as a generator, forcing energy back into the electrical supply line. See Electric rotating machinery

McGraw-Hill Concise Encyclopedia of Engineering. © 2002 by The McGraw-Hill Companies, Inc.
slip
1. A strip of wood or other material, esp. one inserted in a dovetailed groove.
4. A long seat or narrow pew in a church.
5. A narrow passage between two buildings.
6. A thin layer of plaster or grout.
7. The movement which occurs between concrete and steel reinforcement in stressed reinforced concrete; an indication of anchorage breakdown.
McGraw-Hill Dictionary of Architecture and Construction. Copyright © 2003 by McGraw-Hill Companies, Inc.
slip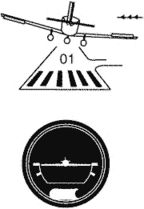 i
. The difference between the geometrical and the
effective pitch
of a propeller. It may be expressed as a percentage of the mean geometrical pitch or as a linear dimension. See
effective pitch
.
ii
. To change the flight crew at one stopping place on an airline route. See also
slip crew
.
iii
. A controlled flight in a direction not in line with the fore-and-aft axis of the aircraft, such as while landing in crosswind conditions. Also used for a steep descent without a corresponding increase in speed.
iv
. Flying with a slight rudder in an other-wise wings-level flight.
An Illustrated Dictionary of Aviation Copyright © 2005 by The McGraw-Hill Companies, Inc. All rights reserved
SLIP
(1)
SLIP
(2)

Symmetric LIst Processsor. Early 1960's list processing subroutine package for

Fortran

by J. Weizenbaum. Later also embedded in

MAD

and

ALGOL

. ["Symmetric List Processor", J. Weizenbaum CACM 6:524-544(1963). Sammet 1969, p.387].

This article is provided by FOLDOC - Free Online Dictionary of Computing (foldoc.org)
SLIP
(Serial Line IP) A communications protocol for dial-up access to TCP/IP networks. It was commonly used to gain access to the Internet as well as to provide dial-up access between LANs. SLIP transmits IP packets over any serial link (dial up or private lines). SLIP has been mostly superseded by the Point-to-Point Protocol (PPP). See CSLIP and PPP.

Copyright © 1981-2019 by The Computer Language Company Inc. All Rights reserved. THIS DEFINITION IS FOR PERSONAL USE ONLY. All other reproduction is strictly prohibited without permission from the publisher.