abbreviated visual approach slope indicator system
Also found in:
Acronyms
.
abbreviated visual approach slope indicator system (AVASIS)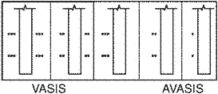 A night-landing aid placed at the beginning of a flare path or runway. It displays different colored lights, depending on the angle from which it is viewed by a pilot approaching to land. When viewed from the correct angle of safe approach, it displays green; when the angle is too high, it displays amber; and when it is too low, red. The system, however, has fewer lights than a full-fledged system. An AVASIS generally consists of only two light units situated on the left side of the runway, one upwind and one downwind. The aircraft is on a slope if the upwind unit shows red and the downwind unit shows white, too high if both units show white, and too low if both units show red. The AVASIS is always set to an eye-to-wheel height (EWH) of 10 ft (3 m). The arrangement of lights is indicated in the illustration.
An Illustrated Dictionary of Aviation Copyright © 2005 by The McGraw-Hill Companies, Inc. All rights reserved